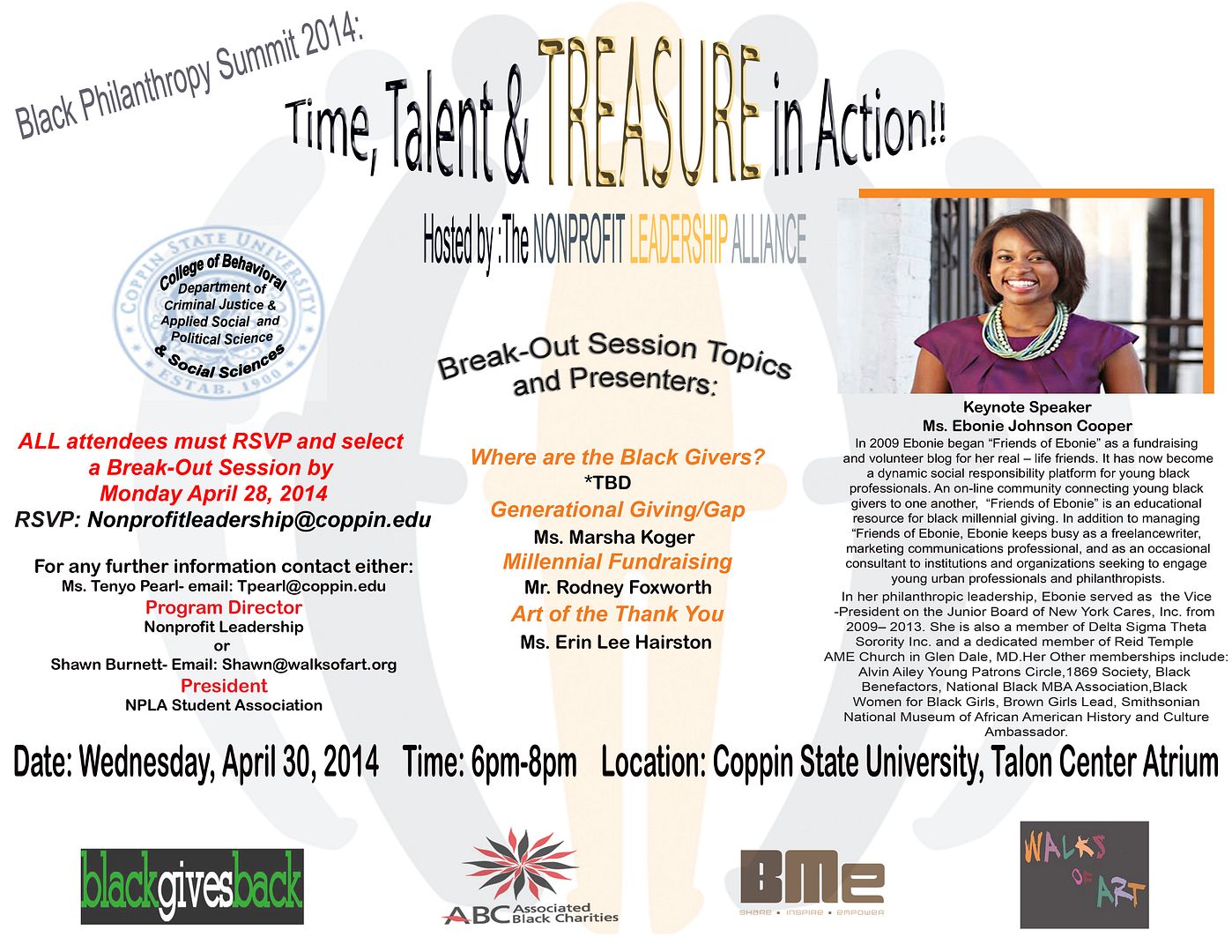 BALTIMORE, MD – BlackGivesBack.com is pleased to serve as a co-sponsor for
"Black Philanthropy Summit 2014: Time, Talent & Treasure in Action"
hosted by Coppin State University and its Nonprofit Leadership Alliance on Wednesday, April 30, 2014. The summit will bring together nonprofit professionals, philanthropists and community focused individuals to discuss Black philanthropy and innovative ideas to progress the sector.
The summit will feature a keynote by
Ebonie Johnson Cooper
, founder of
Friends of Ebonie, LLC
, a social impact organization focused on social responsibility and philanthropy for African American millennials. Cooper will provide the audience with an understanding about black millennials and their capacity for philanthropic giving and community engagement. Breakout sessions will follow on various topics to help build the capacity of nonprofit organizations.
Coppin State University is a campus partner for the Nonprofit Leadership Alliance, a national organization that provides the Certified Nonprofit Professional (CNP) credential that is recognized nationwide. Coppin State is the only HBCU in Maryland that is part of the Alliance and is the only university in Maryland that offers an undergraduate degree in the nonprofit area of education. Additional summit sponsors are Associated Black Charities of Maryland, BMe Baltimore and Walks of Art.
WHEN:
Wednesday, April 30, 2014 from 6 – 8 pm
WHERE:
Coppin State University, 2500 West North Avenue, Baltimore, MD 21216, Talon Center Atrium
RSVP
by Monday, April 28th to: nonprofitleadership@coppin.edu