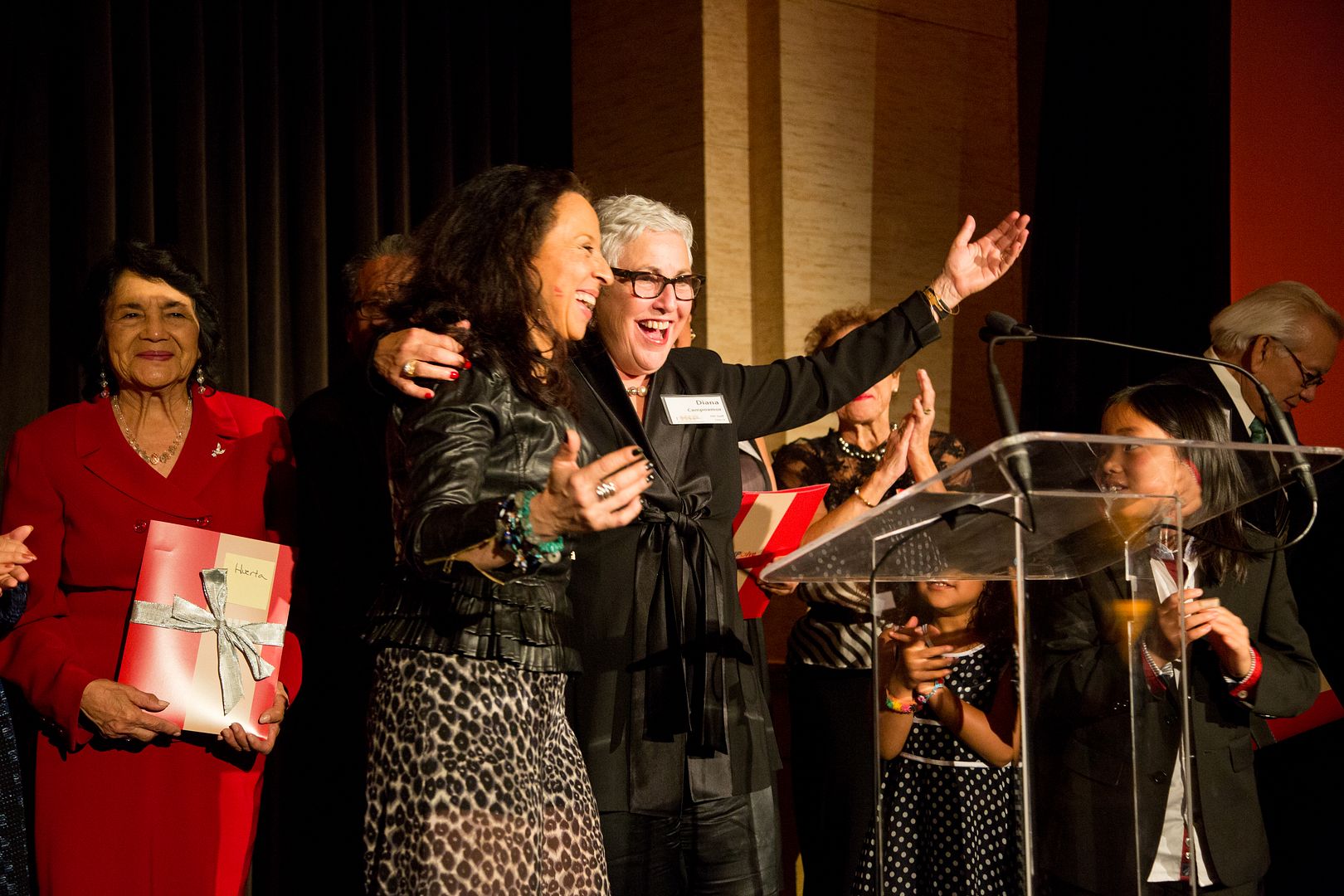 Diana Campoamor (center), president, Hispanics in Philanthropy, celebrates the organization's
30th anniversary at a gala held earlier this year.
Hispanics in Philanthropy launches HIPGive to support Latino projects across the U.S. and Latin America
Hispanics in Philanthropy
(HIP), a network of philanthropists that includes international foundations and corporations, celebrated 30 years of Latino giving and leadership at its 30th anniversary gala on March 6, 2014 in San Francisco. The evening featured a special performance by the legendary award winning singer, dancer, and actress Rita Moreno, and the launch of
HIPGive
, a new online giving platform developed to give donors the opportunity to invest in highly-effective programs led by Latino communities and Latin Americans.
Fundraising projects are curated by HIP staff and celebrity guests across a wide range of issue areas. The organizations available for funding through HIPGive are pre-vetted and help underserved communities, providing an option for donors to make an impact within Latino communities through a click of a button.
"As we witness the growth of the Hispanic population, Latino nonprofit organizations are just starting to attract substantial investments from organized philanthropy. These investments will pay off handsomely in every community in the U.S. and for our countries of origin," said HIP president,
Diana Campoamor
. "HIPGive aims to make philanthropy more accessible across the Americas. We built the online platform as a tool to galvanize our generous culture of giving," she added.
What sets HIPGive apart from other crowdfunding platforms is HIP's solid network of donors and its experience working with Latino-led, Latino-serving organizations. HIPGive will also provide online fundraising and marketing training. Unlike other platforms, HIPGive will teach nonprofits to grow their skills and resources and will forge strategic partnerships across borders.
To celebrate the launch, HIPGive partnered with the Western Union Foundation to offer matching grant funds for featured nonprofits. Twenty-five organizations competed April 16-May 16 and over $107,000 was raised in addition to $25,000 in matching support.
HIP President Diana Campoamor shared more about the importance of the initiative with BlackGivesBack:
HIP has invested over $40 million in small Latino nonprofits and leaders. Why is it important to support these grassroots organizations and leaders?
Latinos are the fastest growing segment of our population, numbering 50 million, comprising 16 percent of the U.S. population. Philanthropy today only invests approximately 2 percent of its grants in Latino-led organizations, a figure that has remained stagnant over the past 20 years despite explosive growth in the Latino population and the many examples of highly effective local programs in need of support. Social indicators for the Latino population are troubling for the nation's future health, yet few are addressing the trends. For the first time, the number of Latino children living in poverty has surpassed that of all other racial and ethnic groups, at 6 million. And while Latinos represent one in four school-age children, they experience the highest dropout rate of any group, at 28 percent.
In order to prepare for the projected growth of the Latino community–and to ensure that the necessary infrastructure exists to promote a highly educated workforce, a healthy population of seniors, and greater civic engagement– investments need to be made now to strategically support the organizations that are working today to strengthen Latino communities.
The Latino-led, Latino-serving organizations supported by HIP tend to be small and multi-faceted. HIP has dedicated its resources and network to bringing these organizations to scale and increasing their capacity to serve their community. As philanthropy as a whole directs more targeted funds to Latino communities, HIP will be there to make sure those funds go further–growing the organizations, communicating across all stakeholders, and raising up the leaders for the next generation. By partnering with foundations, corporations, and individuals, HIP addresses the most pressing issues facing Latinos.
Latino grassroots organizations and leaders are at the front lines of identifying the most pressing issues facing Latino communities and they are the ones developing the most innovative solutions for these issues -- solutions that with just enough investment have the potential to be expanded and create broader positive impact in Latino communities and beyond. HIP has a 30-year track record of supporting these social entrepreneurs – leaders who find solutions, build communities, and who are our future. With the launch of HIPGive, HIP hopes to increase support for and the empowerment of these social change makers.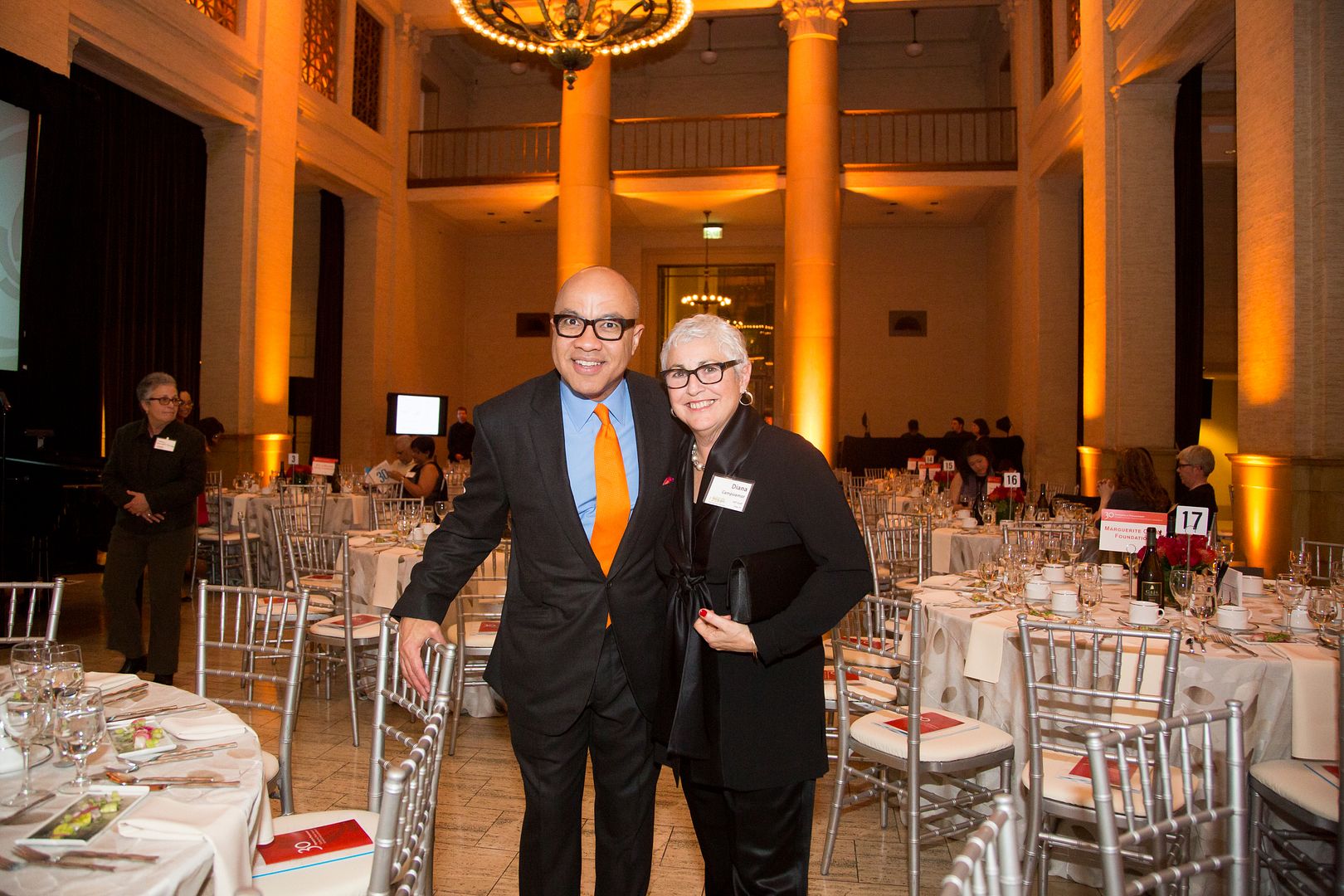 Darren Walker, president, Ford Foundation and Diana Campoamor at HIP's 30th anniversary gala
How did the idea for HIPGive come about?
Latinos are embracing social technologies faster than any other group, and are inserting themselves into political and civic forums at an exponential rate. Until recently, those philanthropic instincts were mainly expressed at the level of the church, extended family and local community. Yet, despite their dramatic growth, Latino communities have received a fraction of the organized philanthropy that other communities enjoy. We are maximizing the community spirit of Latinos by making giving strategic, personal – and more effective than it's ever been.
Since HIPGive's launch, what success stories have you heard from participating nonprofits?
One of the nonprofits currently raising funds on HIPGive met their fundraising goal for their Paletas for a New Economy project in the first two weeks of the campaign! Many of these groups have never really engaged in or developed social media strategies to help them fundraise and have now started to really engage in this new media through HIPGive with the HIPGive trainings and support. While their social media activity is increasing slowly, the majority have expressed to the team their excitement and eagerness to keep learning how to utilize technology and social media to strengthen their organization's fundraising efforts. We believe we are just at the tip of an iceberg in terms of the community organizing potential through HIPGive.
To support HIPGive, please visit
www.HIPGive.org
.