By Sandra Davis, Contributor
The field of community philanthropy is celebrating a milestone this year with the 100th anniversary of the Cleveland Foundation. Right on its heels is The Chicago Community Trust, just one year away from celebrating its centennial. In observance of their 99th anniversary, The Trust extended generous invitations to leading community advocates, industry trailblazers and concerned citizens to host and/or participate in "
On The Table
," community wide conversations about Chicago's future. More than 10,000 Chicagoland residents at 1,000 mealtime conversations across Chicago, the suburbs and counties, including those of all ages, from all walks of life and socio-economic circumstances gathered together last month to share their ideas about how to build strong, vibrant communities.
On Monday, May 12, 2014,
Jada Russell
, Founder and Chief Strategist of High Style Marketing and PR (HSMPR) along with her husband
Chef Julius
, Executive Chef of A Tale of Two Chefs, were asked to host an On The Table gathering because of their longstanding commitment to the arts, philanthropy and food.
The Russells welcomed a diverse selection guests who are informed about Chicago's most pressing issues: Pastor of Apostolic Church of God
Dr. Byron T. Brazier
, COO of the Arthur M. Brazier Foundation
David Byrd
, Founder of the Mamie Till Memorial Foundation
Airickca Gordon-Taylor
, Program Director for the Chi Anti Vi/Quad Communities Development Corporation
Iona Calhoun-Battiste
, Executive Director of the Beverly Arts Center
Heather Ireland Robinson
, Co-Founders of Double Stitch
Ericka

and

Monica Simmons
, Owner of Maestro's Shave
Maestro
and Director of the City of Chicago on Human Relations
Arnold Romeo
were just a few of the noted guests willing to put their ideas "on the table." When asked about their selection of guests, Jada shared, "When I was asked by The Chicago Community Trust to host a dinner, I felt a tremendous responsibility to contribute to their vision for the day in a meaningful way. So as I culled my list of guests, I thought it was important to have a wide cross section of leadership represented - arts & culture, civic engagement, youth anti-violence, education, law, fashion and beauty - and Chef Julius and I representing culinary arts and public relations. Our primary focus would be the 'future of Chicago' and I believe an important part of that conversation should examine the city's global presence. Having guests from Australia, Ghana and Trinidad helped shape that dialogue."
Jada and Chef Julius Russell welcome guests to

"

On The Table

"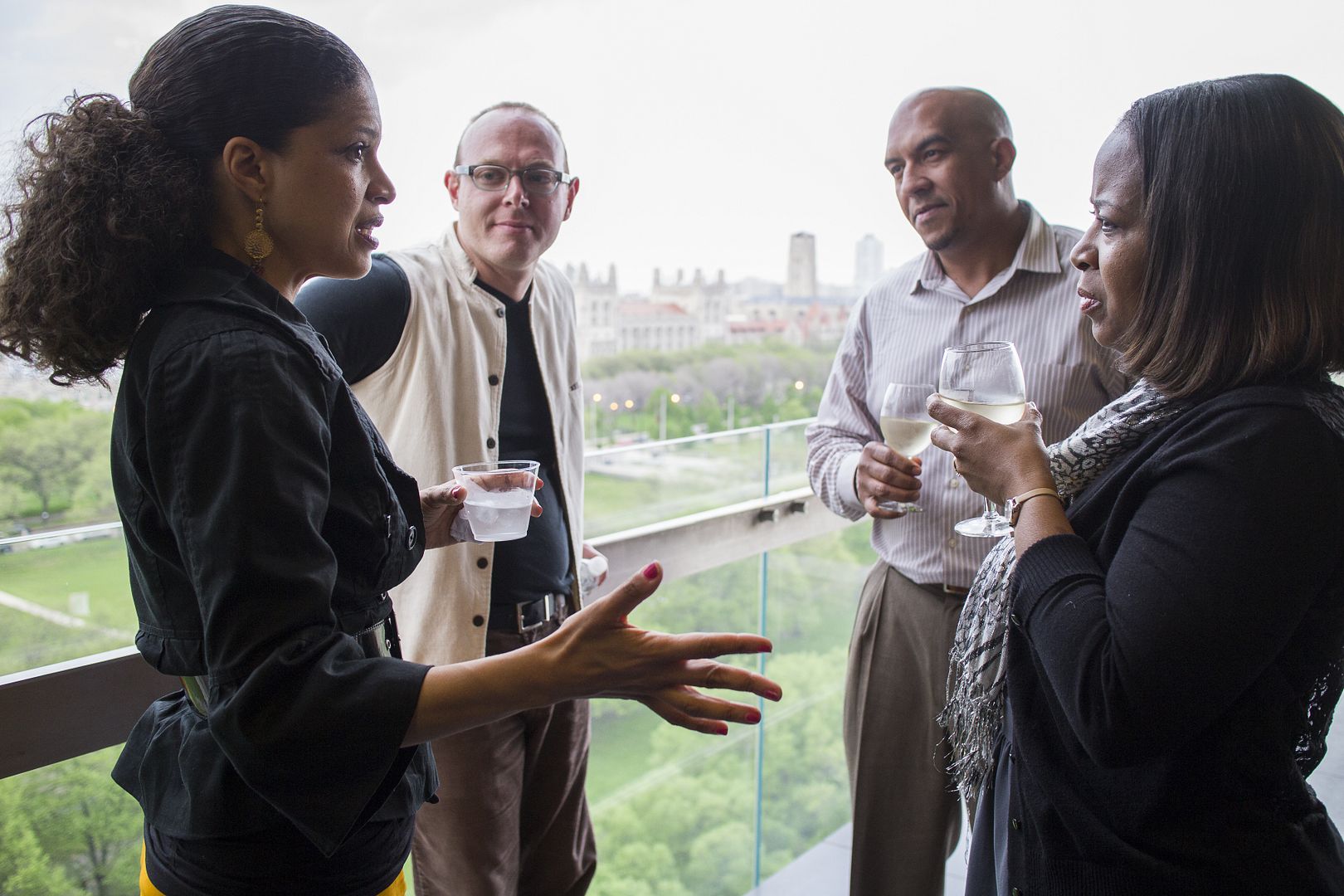 The evening began with prayer and blessing of the food followed by appetizers of crostini trio: herbed goat cheese, ricotta cheese with tomatoes and Andros artisan coppa (pork) and bresaola (beef) prepared by Chef Julius. As soon as everyone was seated, both Jada and Julius encouraged a spirited conversation amongst a cross section of leaders representing various fields. The discussion transitioned from stating the roadblocks that Chicago and its communities face, to exploring solutions to the problems of violence, socio-economic injustice, education inequality, the need for innovative leadership and lack of unity.
Ideas that came from the meeting were the creation of a plan for Chicago that addresses and prioritizes critical issues, and reaching out to international allies who are facing the same issues. By the end of the gathering, civic leaders were inspired and engaged by the collective visioning for the betterment of Chicago. In October, Chicago Ideas Week (CIW), an annual gathering of global thought leaders created to provoke new ideas and inspire actionable results, will invite three to five On the Table participants with clear visions for improving Chicago to take the CIW stage. To learn more about the initiative, visit
onthetable2014.com
and view the many inspiring ideas submitted by participants.
Generous support and sponsorship for the event was provided by Arthur M. Brazier Foundation, Reva and David Logan Center for the Arts, HSMPR and A Tale of Two Chefs. Learn more about The Chicago Trust at
http://www.cct.org/
.
Story Submitted by Sandra C. Davis
Sandra is a Purpose-Driven Marketing Communications/Branding Strategist and Realtor, who connects people, events, nonprofits, and companies with complementary brands and social causes that share their missions and target markets in order to amplify each entities social impact. Ms. Davis is the Creative Director of Lioness Communications and a member of the Chicago Ideas Week Cooperative. Follow Sandra on Twitter at @Sandraloves and @LionessRealtyGp.