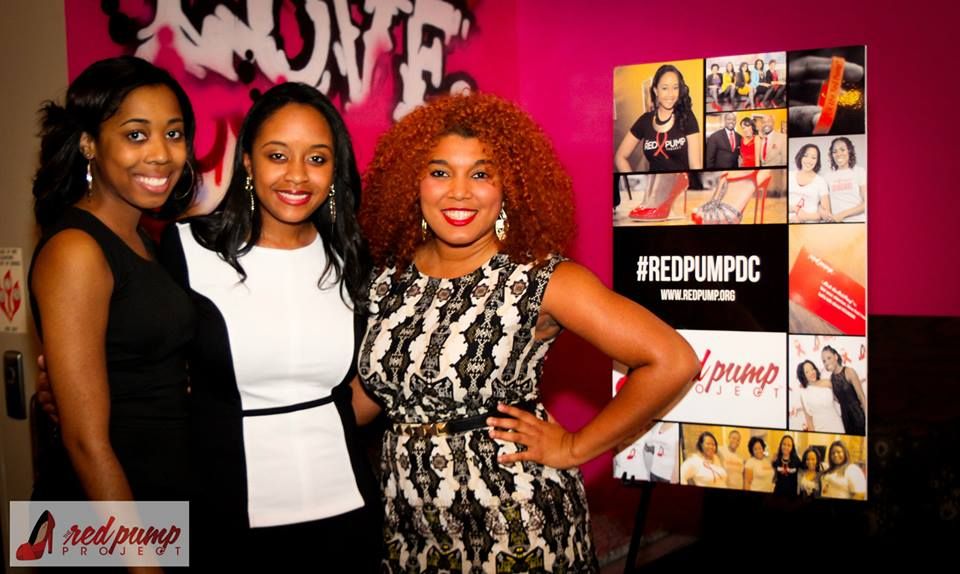 Red Pump Project DC ambassador Brittani Menina (center) with Portia Vee and Simona Noce
WASHINGTON, DC – On Saturday, June 21, 2014, the Red Pump Project DC will host its inaugural Red Summer Soirée benefit fundraiser in commemoration of National HIV Testing Day. The Red Pump Project is a nonprofit organization that raises awareness about the impact of HIV/AIDS on women and girls. The organization empowers, educates and motivates action by boldly driving conversation online and offline around HIV prevention and issues related to sexual and reproductive health. A red pump is used as a symbol of empowerment to represent the strength and courage of women affected by HIV/AIDS.
The inaugural soirée will be a fashion-themed cocktail event with a gourmet brunch, entertainment, a silent auction and award presentation. Honoree Lisa Fager Bediako will receive the Ultimate Red Pump Rocker Award for her efforts to raise awareness and education.
Brittani Menina, Ambassador and Coordinator for Red Pump Project DC shared, "We are excited and honored to finally have a presence in Washington, DC. We hope that our inaugural event will encourage continuous HIV testing and we wish to raise funds to support our local outreach initiatives, so we can execute educational programs within the community."
Earlier this year, the Red Pump Project DC held its annual Condoms & Cupcakes event on March 8 to promote safe sex while providing condoms and cupcakes to the community. The annual event is held in different cities nationwide to promote the Rock the Red Pump® (#RocktheRedPump) signature campaign – held every year to commemorate National Women and Girls' HIV/AIDS Awareness Day (NWGHAAD) recognized annually on March 10.
The inaugural Red Summer Soirée will be held at M Street Bar & Grill located at 2033 M Street, NW in Washington, DC from 12:00 - 3:00 p.m. Ticket prices start at $55 and include a three-course brunch and unlimited mimosas . Visit
here
to purchase tickets and for sponsorship information, contact Brittani Menina at
brittanim@redpump.org
or call 228.343.2134.
About The Red Pump Project
In 2009, Karyn Watkins and Luvvie Ajayi came together to devise a creative way to engage bloggers in recognition of National Women and Girls HIV/AIDS Awareness Day. They asked bloggers to "Rock the Red Pump" out of their desire to jumpstart important conversations on the issue of HIV/AIDS and the impact of the disease on women and girls. The goal was to sign on 100 bloggers. On March 10, 2009, over 125 bloggers responded and "Rocked the Red Pump." Since then the campaign continues to grow and gain national attention. In 2012, singer and activist Alicia Keys tweeted her support of the campaign. The Red Pump Project has grown from a social media campaign to a national nonprofit working both on the ground and online to ensure that women are empowered with knowledge about HIV/AIDS and the issues surrounding it. Learn more at
www.theredpumpproject.org
.