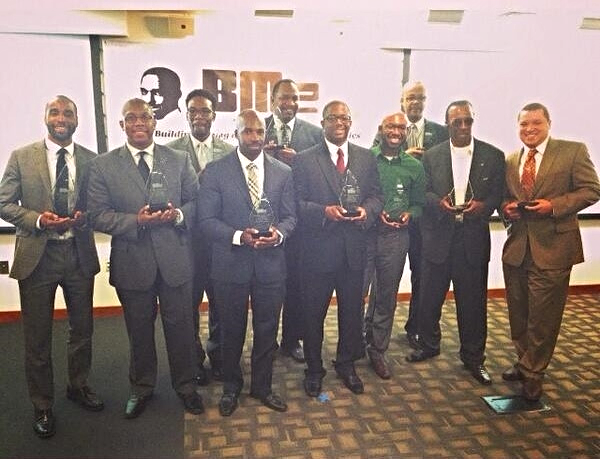 10 Baltimore Leaders Awarded with $10K Grants for Community Development Work
BALTIMORE, MD – A crowd of more than 100 public officials, community influencers, family members and friends gathered at the Annie E. Casey Foundation on Thursday, June 27 to celebrate the finalists selected as 2014 BMe Leaders. Founded in 2011, BMe Community is a growing network of inspired Black male owners, doers and builders on a quest to build more caring and prosperous cities.
Earlier this year, BMe Community issued a call to involved Black males in Baltimore, Detroit and Philadelphia to apply for 30 BMe Leader Awards – $10,000 grants to support the work that they do in their local communities. BMe recognizes Black men as assets to society, and the organization was created to reward and celebrate everyday Black men whose meaningful contributions are often overlooked.
"If you live in Baltimore, Detroit, Philadelphia, or a similar area, there's usually some sort of violence associated with your town. Too often, the face of that challenge is a brown one," BMe founder Trabian Shorters explained. "If we do not talk about the good in our community, people might get the mistaken impression it does not exist."
The keynote speaker for the evening was Shawn Dove, manager of the Open Society Foundations' Campaign for Black Male Achievement. "The message is that there is nothing wrong with Black men and boys in this country," he said. "There is no cavalry that's coming to save the day in our communities. The iconic leaders that we are looking for are right here."
Benjamin Evans, III, managing director, BMe Baltimore served as emcee for the evening, along with Rodney Foxworth Jr., community manager. All 2014 BMe Leaders received a congratulatory proclamation from Mayor Stephanie Rawlings-Blake. The program included performances by spoken word artists David "Native Son" Ross and Franchesca Collins.
Emmanuel Cephas, 2013 BMe Leader, an entrepreneur and software developer, shared how the BMe network helped him to grow his business and receive prominent exposure, including an invitation to the White House. The BMe staff also held a candle lighting and moment of silence to celebrate the life and legacy of Shawn L. White, a 2013 BMe Leader who passed away due to illness. The ceremony concluded with a BMe unity declaration, inspired by the African concept of Ubuntu, the principle that we are human only through the humanity of others.
Each BMe Leader receives grant funding, along with opportunities to network and collaborate with other Leaders and partners within the BMe Community. A list of Baltimore honorees and their achievements are below:
Chaz Arnett stands up for the most vulnerable by representing youth who cannot afford attorneys who have been charged with crimes. The 2014 BMe Leader Award will help him to continue his research and create an interactive app that provides informational legal resources.
Munir Bahar is the organizer of the 300 Man Movement, an anti-violence coalition that aims to reduce gun violence in Baltimore. He will use his 2014 BMe Leader Award to expand the COR Fitness facility and mentorship program.
Damion Cooper is a youth minister and mentor who is also the Director of Office and Neighborhood Constituent Relations for the Baltimore City Council. He will use his 2014 BMe Leader Award to develop "PHOENIX RISING," a holistic educational curriculum for youth that incorporates athletics, art and meditation.
Preston Greene is a passionate community advocate who led a public-private partnership that brought the first grocery store in 15 years to his northwest Baltimore neighborhood. He will use his 2014 BMe Leader Award to launch a capacity building course for high school students and young adults.
Fagan Harris is a social entrepreneur inspired to reshape the way local businesses and philanthropies cultivate homegrown talent. He will use the 2014 BMe Leader Award to pilot a class that cultivates resources, mentors and coaches to empower 'Baltimore for Baltimore' entrepreneurs.
Walter Lomax spent 46 years in prison as a victim of a wrongful conviction. He will use his 2014 BMe Leader Award to support a reentry counseling program for prisoners at risk of a second offense as a consequence of the social and psychological dissociation they experience.
LeDamien Myers directs Project Lead the Way, a biomedical program for students at Western High School, and will use his 2014 BMe Leader Award to develop extracurricular science programs that cultivate the next generation of health care professionals, particularly historically underrepresented Baltimore City youth.
Chris Wilson leads Community Workforce Development at the Greater Homewood Community Corporation and will use his 2014 BMe Leader Award to expand and resource the Barclay Business School, a "low-tech" incubator he founded to teach employable skills to aspiring Baltimore entrepreneurs.
Michael Franklin is an advocate who serves to empower young voices in conversations of race, class, gender, sexuality and equality. He will use his 2014 BMe Leader Award to facilitate 'Safe Space for All,' cultivating a safe and constructive environment for adolescents to discuss Lesbian, Gay, Bisexual and Transgender (LGBT) issues, health and wellness, and various topics related to social justice.
Lance Lucas is the founder of Digit All Systems, a program that has trained more than 10,000 students in computer programming through partnerships with 60 schools in Baltimore City. Lucas will use the 2014 BMe Leader Award to certify computer technicians in Baltimore City schools and beyond.
About BMe
BMe Community builds caring and prosperous communities inspired by Black men. The organization invites all people to work together to create positive change in a variety of areas, including youth development, public health, violence prevention, strategies for successful re-entry, protecting the environment, community farming, entrepreneurship, and financial literacy, just to name a few. Headquartered in Miami, Florida, BMe operates in Baltimore, Detroit, Philadelphia, and Pittsburgh, and is expanding nationally. Learn more about the BMe Community's stories, events, and the 6,000+ great people who are already members of the network at
www.BMeCommunity.org
, on Twitter @bmecommunity, and on Facebook at 'BMe Community.'