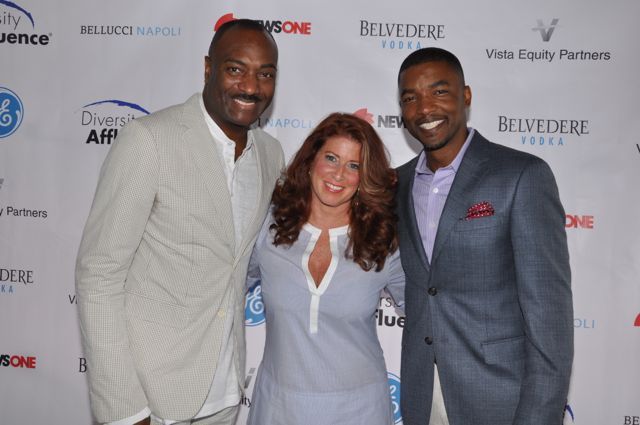 Reginald Van Lee, Diversity Affluence Founder and CEO Andrea Hoffman and Denmark West
Event Hosted by Van Jones of CNN's Crossfire
New York, NY- An elite group of multicultural affluent consumers, business influencers and innovators gathered at Harlow East in Sag Harbor, NY (formerly B. Smith's) this past weekend to attend the 5th Annual Diversity Affluence Brunch. Diversity Affluence Founder and CEO Andrea Hoffman curated the elite group, coined the Royaltons™, to celebrate five individuals who are examples of what's possible for current and future generations. "This year's theme, Unsung Leaders in Technology, Innovation and Social Impact is among my firm's new efforts to bring awareness to these accomplished but under the radar high impact leaders" explained Hoffman.
This year's honorees reflected the changing face from board seats to the C-Suite. They included: Professor
James I. Cash Jr., PhD
– James E. Robison Professor Emeritus & Senior Associate Dean, Harvard Business School (board member of GE, Walmart, Chubb and former Microsoft board member),
Marian Croak, PhD
– SVP of AT&T (holds 180 technology patents),
Chinedu Echeruo
– Inventor of HopStop (sold to Apple),
Freada Kapor Klein, PhD
of Level Playing Field Institute and
Mitch Kapor
of Kapor Capital (Creator of Lotus 1-2-3).
The day began with an outdoor reception overlooking the marina where guests were served a specialty Belvedere Royalton cocktail, followed by a private Moët Chandon toast featuring the honorees and sponsors, including Bellucci Napoli, BET, General Electric, Goldman Sachs, HBO, Microsoft, NewsOne, South African Tourism, Viacom and Vista Equity Partners. Guests, many of whom flew in from as far as Africa, Silicon Valley and Dallas, moved inside to continue the celebration of the honorees. Powerbrokers in the room included Goldman Sachs partner
Valetino D. Carlotti
, Booz Allen partner
Reginald Van Lee
, international businessman
Gbenga Oyebode
,
Marva Smalls
of Viacom,
Lucinda Martinez
of HBO and
Debra Lee
, Chairman of BET.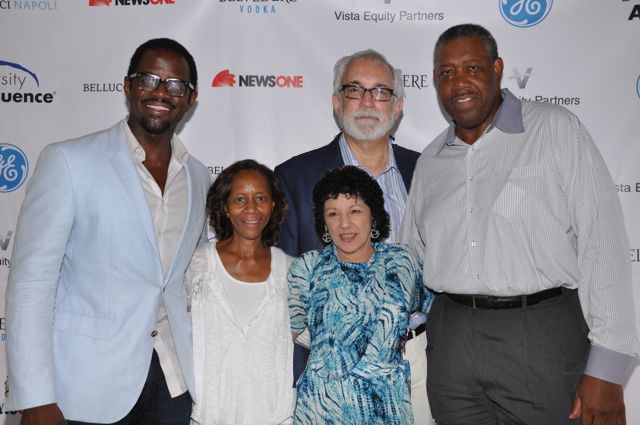 Honorees Chinedu Echeruo, Marian Croak, Mitch Kapor,
Freada Klein Kapor and James Cash, Jr.
Opening remarks were made by Andrea Hoffman who introduced the event host, Van Jones. After Van's remarks he introduced a surprise video from Microsoft Chairman John W. Thompson, who congratulated the honorees. After delectable options of Chicken Pillard, Lobster Mac & Cheese or savory French Toast were served, honorees each shared inspiring words. Next, former NAACP President and Kapor Capital Partner Ben Jealous introduced Mitch & Freada Kapor for a heartfelt Q&A about their impressive 10 years of effort and accomplishments in increasing diversity in the field of S.T.E.M (Science, Technology, Engineering and Math). Each honoree received a thunderous standing ovation, particularly James Cash who Van Jones introduced as a "legend."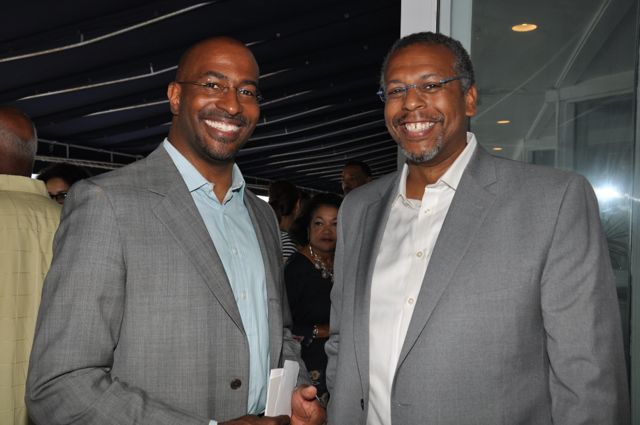 Van Jones and Hank Williams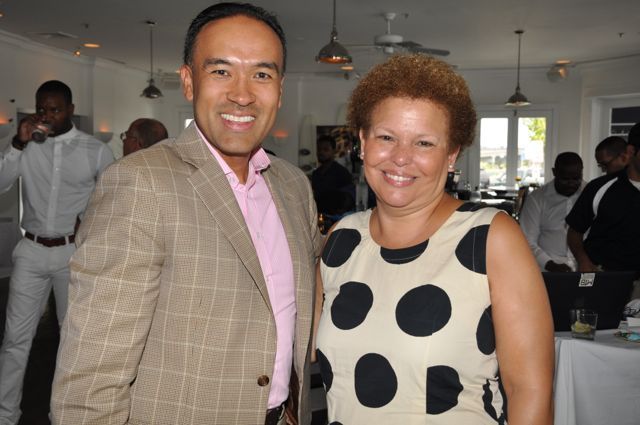 Mark Tatum and Debra Lee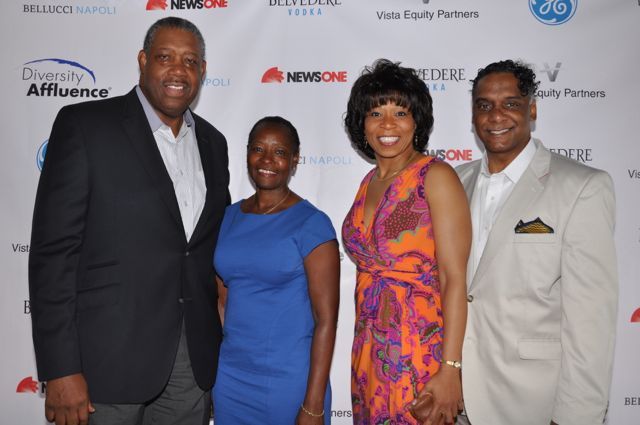 James Cash, Jr., Clemmy Cash, Deborah Elam and Cary Grant
Before the event concluded, Van Jones helped auction an all-expense paid trip to South Africa (valued at over $10,000) generously donated by South African Tourism and Lion World Travel. A bidding war broke out between two respected executives with the winner being Dan Gasby and Barbara Smith, the former owners of B. Smith's Restaurant.
Andrea Hoffman closed out the day by sharing with honorees and guests to "continue to be the light and legacy for future generations to follow." The waiters then processioned out with silver platters filled with customized Bellucci Napoli gifts for all guests. On October 19th, Silicon Valley will have its own taste of this brunch continuing to recognize, celebrate and bring awareness to Unsung Leaders.
About Diversity Affluence + Culture Shift Labs
Diversity Affluence is a NextGen Management Consultancy with a social enterprise operating mindset. The firm provides a full range of services that enable their clients to understand and engage untapped consumer groups and opportunities with a focus on Royaltons™. Services include: Business Development, Target Marketing, Events, Think Tanks and Innovation Labs:
www.DiversityAffluence.com
.
Source: Press release/Photo credit: Stephen Knight