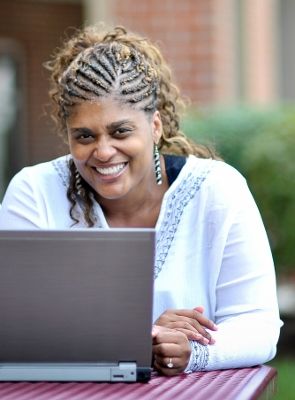 Froswa' Booker-Drew
, a former contributor for BlackGivesBack.com (BGB), is the author of the new book,
Rules of Engagement: Making Connections Last
. The workbook focuses on the importance of building strong, lasting relationships that can help women both personally and professionally. In an email interview with BGB, Froswa' shares what prevents women from establishing lasting relationships, and how the book can help young professionals and women working in the nonprofit sector and philanthropy.
What prevents women from establishing lasting relationships?
I think that our experiences impact our ability to connect to one another. Often it is a result of what we've seen or have been taught. Our mothers and early female role models (or lack of) are so important in forming our beliefs about trust, empathy, and building connections. If we've had negative experiences, this becomes a lens for how we process relationships until we recognize how our past has become a barrier.
I also believe that media plays a significant role in the way women form relationships. Social media can be a wonderful place for connecting but often, it has become a place that highlights female aggression and hostility. We don't spend enough time connecting authentically. There is power in the story and when we connect to others, the conversations will help us see the resilience, optimism, and hope that are a part of all our journeys. The truth is that women can build long lasting relationships but in order to do so, it is essential to understand your narrative.
Why do you feel that making connections last is important?
Building relationships are critical to not only our emotional well-being but can serve as an opportunity to meet others that can help you both personally and professionally. Social mobility is not just about what you know but who you know can be helpful to your career. Having high quality connections can help a person achieve their goals on a number of levels and these are the types of relationships that last.
What do you feel is the common myth of networking?
I think we feel networking is about transaction and getting something right now. Sharing business cards is not about relationships. It is hoping that you can do something for me. The goal should be transformational relationships. The relationship has to be mutually beneficial. The goal is to make sure that we both walk away with something—even it means just connecting one another to someone else. Relationships take time—personal or professional—and we typically believe that networking results in immediate action.
How will this book change the mindset of rising professionals?
I believe this book provides information to help younger professionals think about opportunities to connect by learning from my experience and knowledge. Many young adults are so fixated on completing their degree that they may not take the time to build relationships that can help them later. I remember sharing with a group of female students at Susquehanna University about networking and I was amazed with their interest in this topic. I was very fortunate because when I started my career, I was extremely active in my university and community. I started early building my network.
Why did you decide to gear the book towards women?
I am currently completing my dissertation for my PhD in Leadership and Change at Antioch University. Throughout my program, I have focused on social capital (networking, relationship building), diverse women and relational leadership. In my first research project, I brought together a group of diverse women (race, age, religion, occupation) to discuss how they build social capital. When it was time to introduce themselves, all of the women talked about their titles instead of really focusing on who they are and their interests. They also focused heavily on their relationships which can be instrumental in the formation of their identity.
Women, when they remove the layers of work, family, and friends, are challenged to really think about who they are. I wanted to create a workbook for women based on my learning from this group and from my life experience. I had being hearing from so many women that they couldn't trust or become friends with other women, so I want them to begin to reflect on their lives and see how their experiences informed the way they connect to one another.
How will this book help women in philanthropy and the nonprofit sector?
The nonprofit sector has so many amazing women in a variety of roles. I think it will be helpful especially for those who are trying to grow in their roles to have tools and tips that can accelerate their growth and relationships. For the more seasoned and experienced leader, the workbook can assist in building conversations with your teams that can build your relational/social capital within your team and organization. It can also be impactful for reflection and helping readers become more aware of their story.
Froswa' is currently a PhD candidate at Antioch University in Leadership and Change and the National Director of Community Engagement for World Vision, US Programs. Froswa' also provides webinars for nonprofits on 4Good.org. For more information about the book or to purchase, please visit
www.austinbrotherspublishing.com
.