Founders of B.L.A.C.C.
Los Angeles, CA – Liberty Hill Foundation, L.A.'s leading social justice funding organization, is proud to announce the launch of the new
Building Leaders and Cultivating Change Fund
(B.L.A.C.C.).
The B.L.A.C.C. Fund, one of several influential giving circles housed at Liberty Hill, launched August 2, at the start of
Black Philanthropy Month.
Giving circles are groups of individuals who want to increase the impact of their philanthropic giving by pooling their funds and targeting their donations. The Building Leaders and Cultivating Change Fund launch party was held at the home of
Fran Jemmott
and
Bernie Rollins
, longtime social justice activists and Liberty Hill supporters, and was attended by more than 50 people. The garden party setting allowed for informal personal connections and socializing, part of the "building community" aspect of the giving circle.
An inter-generational giving circle, B.L.A.C.C. seeks to build a community of philanthropists among professionals in Los Angeles and is open to both the young and young at heart who are dedicated to supporting organizations empowering the African American community through education, jobs and leadership development.
The mission of B.L.A.C.C. is to transform the African American community in Los Angeles. By harnessing the members' collective giving power to support organizations working on the frontlines of social justice, B.L.A.C.C. provides an opportunity for professionals to become philanthropists and strategically position grant dollars to advance the African American community.
"We are casting a wide net among L.A.'s professional network and want to make philanthropy accessible across income levels," says co-chair
Kaci Patterson
, "so that we are building community at the same time that we are building leaders and cultivating change."
Giving levels begin at $25 a year with no maximum. Contributors at $500 a year and above are given a vote in deciding which organizations receive a grant from B.L.A.C.C.; and at $750 or more, contributors are invited to attend site visits and other special events. The group exceeded its fundraising goal on its first day, raising almost $14,000.
"All of us have benefited from philanthropy at some point in our lives," Ms. Patterson says. "Whether it was through scholarships and grants to attend college, community organizations that provided free extracurricular programs and health screenings, churches that provided meals and free toys, or civic organizations that invested in building our capacity as leaders, philanthropy has played an important role in providing us opportunities to succeed. We have a responsibility to extend that same opportunity to others in our community and not wait for someone else to consider our well-being. That's what motivated B.L.A.C.C."
Among the inspirations for the Building Leaders and Cultivating Change Fund founders is their participation in Liberty Hill Foundation's
Uplifting Change
initiative. Uplifting Change connects local donor-activists and helps them leverage community assets to strengthen Black Los Angeles through philanthropic investment in grassroots community organizing.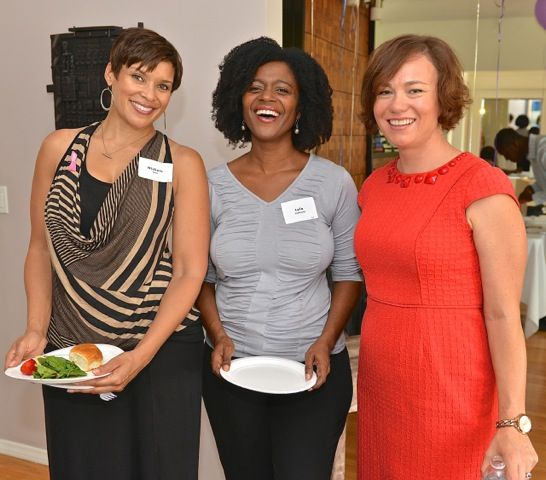 Nichole Curtis, Leadership Program Officer, United Way L.A.; Lola Smallwood Cuevas,
Director, Los Angeles Black Worker Center; Shane Goldsmith, President/CEO, Liberty Hill Foundation
Cynthia McNamee and April Harris
Kaci Patterson and Carol Young
About Liberty Hill
Liberty Hill, a public foundation in Los Angeles, advances movements for social change through a unique combination of grants, leadership training and alliance building. When Liberty Hill began in 1976, it was a daring new foundation that turned philanthropy on its head. Today it is a national leader in social justice. Organizing and advocacy powered by Liberty Hill has changed national policies, launched movements, transformed neighborhoods, and nurtured hundreds of community leaders who respond to the experience of injustice by fighting for their rights.
www.LibertyHill.org
Related post:
5th Annual Uplifting Change Summit Gathers Donors to Strengthen Black Los Angeles
Top photo: The four founders of B.L.A.C.C.—
Sarah Figueroa
, Senior Vice President, Camino Nuevo Charter Academy;
Kaci Patterson
(co-chair), Vice President, Families in Schools;
Felicia Jones
, Deputy Director, Community Asset Power Re-defining Education (CADRE); and
Ryan Smith
(co-chair), Director of Education Programs and Policy, United Way of Greater L.A.
Source and photos courtesy of Liberty Hill Foundation