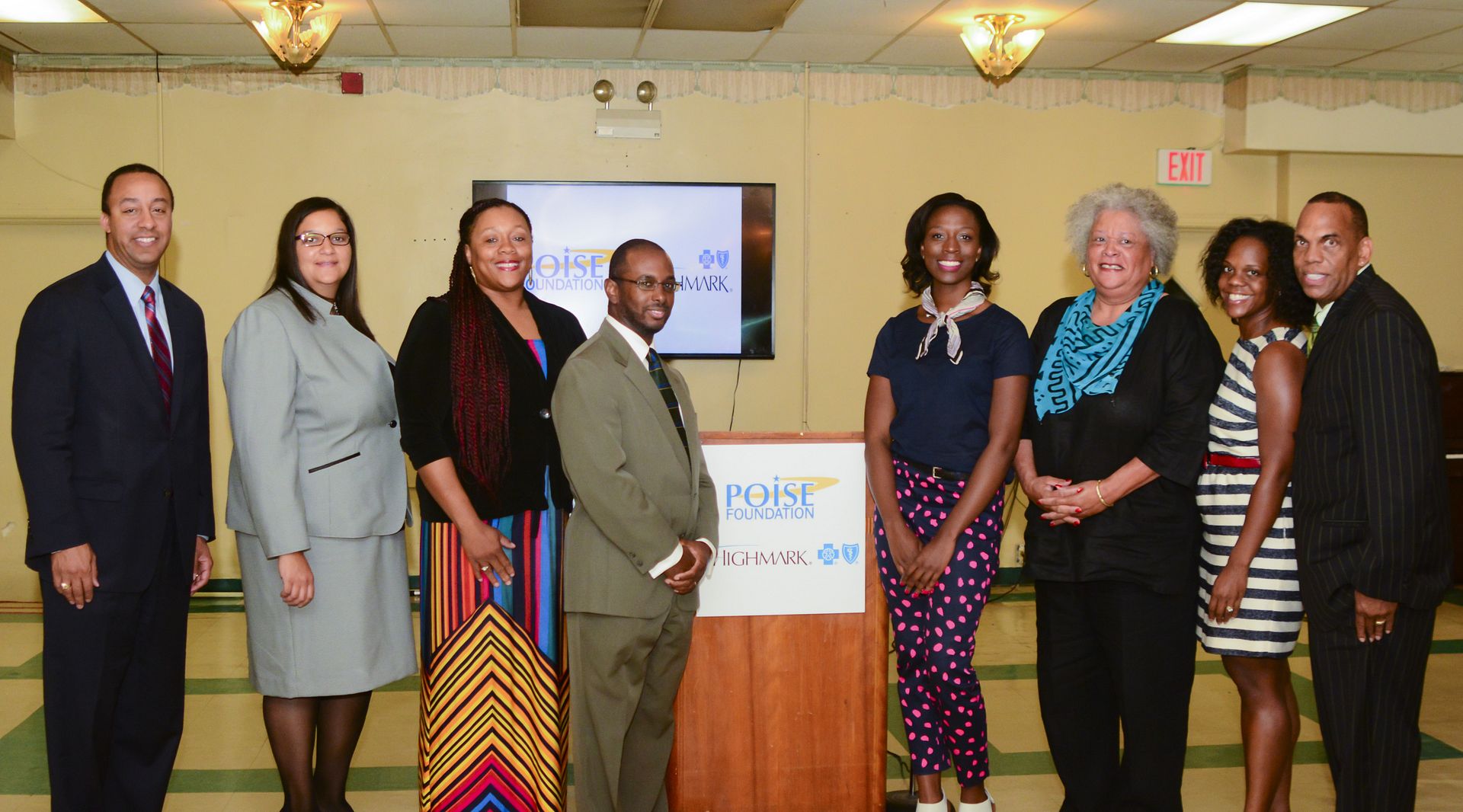 Representatives from Highmark Blue Cross Blue Shield and POISE Foundation
African-American foundation receives $250,000 in support of initiatives aimed at strengthening the Black community
PITTSBURGH, PA – In 1980 the POISE Foundation was created, the first public foundation in the state of Pennsylvania exclusively organized and managed by African Americans. Its mission is to assist the Pittsburgh region's Black community in achieving self-sustaining practices through strategic leadership, collective giving, grantmaking and advocacy. To date the Foundation has impacted the community with more than $9 million in financial support to organizations that add value to the quality of life in Black Pittsburgh and the region as a whole.
In 2012 POISE established a new grantmaking strategy with the goal of creating strong families and community sustainability – Strengthening Black Families. POISE believes that by strengthening the Black family, it will ultimately elevate and sustain a higher quality of life in the communities where they live.
Support for the new initiative was provided by Highmark Blue Cross Blue Shield with a $250,000 grant. Highmark's initial $100,000 investment in 2012 positioned POISE to launch the grantmaking strategy and recently, the company granted the remaining installment of $150,000 to enable POISE to provide program management and technical support to four local organizations whose programming and activities lift the region's Black families.
"The generous investment from Highmark, coupled with their commitment as a community partner, supports the Foundation in our goal to be a more proactive grantmaker and to build policy knowledge and capacity within the Pittsburgh community," said Mark Lewis, president and CEO at POISE Foundation. "We realize the importance of new and transformative approaches to impact community change."
Mark Lewis, President & CEO of POISE Foundation
The four programs receiving funding are: Amachi Pittsburgh - Family Strengthening Project Plan, Melting Pot Ministry - Family Konnections Program, The Center That C.A.R.E.S. - Family Time Program and University of Pittsburgh School of Medicine's Teen Mother, Young Father Program.
"The 'Family' is the first and most important institution we have. Health, education, morals, values and work ethics are influenced first and foremost by our families," said Karris Jackson, vice president of programs at POISE Foundation. "It is to this end that we believe strong families are essential for building a strong community."
To learn more about POISE Foundation, visit
www.poisefoundation.org
.