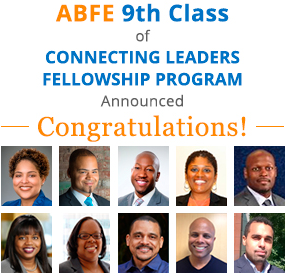 ABFE Announces 9th Class of Connecting Leaders Fellows
New York, NY – A diverse group of philanthropic professionals who have vast experience across a range of issue areas including youth development, health, education and advocacy have been selected as the 9th Class of ABFE Fellows.
The Connecting Leaders Fellowship Program (CLFP) is a year-long experience designed to sharpen the skills and strengthen the leadership capacity of foundation staff, donors and trustees who are committed to assisting Black communities through philanthropy. Fellows have the opportunity to learn from seasoned grantmakers and peers on a regular basis, understand how to be more effective agents for change within their institutions and participate in a network that focuses on innovative solutions to community challenges.
The CLFP year officially kicks off with a four-day, intensive Leadership Summit that will take place on November 3-7, 2014 in Birmingham, Alabama at the request of former ABFE Fellow
Lyord Watson
('12). Watson is a founding member of the
Birmingham Change Fund
giving circle, a board member of the Community Investment Network and was recently elected to the Birmingham Board of Education. He stated,"Bringing a talented group of experts and leaders who are passionate about change to Birmingham will be a wonderful gift for my city."
ABFE launched CLFP in 2005 to improve retention and career advancement for Black professionals in the field of philanthropy. Its track record is impressive. Over 80% of alumni are still in the field of philanthropy and CLFP alumni respondents to a 2012 survey credited the Fellowship in the following positive ways: gaining more responsibility in current role (55%); moving to a new organization in philanthropy (37%); and obtaining a promotion in a new organization (45%). In 2013-2014, three alumni were named CEO of their foundations.
Fellows were chosen based upon a set of criteria covering their experience in philanthropy, their goals for the future, and their interest and passion for making systemic change in Black communities. The 2015 Class of Fellows are:
Jehan Benton-Clark
, Senior Program Officer, Kate B. Reynolds Charitable Trust;
William Cordery
, Program Officer, Marguerite Casey Foundation;
Patrick Hendricks
, Development Manager, Mayor's Institute for Excellence in Government, Memphis, TN;
Kelli King-Jackson
, Program Officer, The Simmons Foundation;
E. Bomani Johnson
, Senior Director of Programs & Partnerships, DC Children & Youth Investment Trust Corporation;
Michelle D. Johnson
, Associate Program Officer, The Kresge Foundation;
Katrina Mitchell
, Program Officer, Andrus Family Fund;
Terrance Pitts
, Program Officer, Criminal Justice Fund, Open Society Foundations;
Castle Redmond, J.D.,
Program Manager, Health Happens in Schools, California Endowment; and
Ed Smith-Lewis
, Associate Program Officer, Student Success, U.S. Program, Postsecondary Success, Bill & Melinda Gates Foundation.
For more information about ABFE and the Fellowship program, visit
abfe.org
.