Chicago fashion designer, philanthropist and breast cancer survivor has funded over $100,000 for breast cancer education
By Sandra Davis, Contributor
CHICAGO, IL— Barbara Bates, a Chicago-based fashion designer, has dressed many of the city's notables, including Michael Jordan, Oprah Winfrey and Steve Harvey. In 1999, she founded the Barbara Bates Foundation to give back to her hometown by donating prom dresses and formal wear to inner-city high school students who excel despite difficult circumstances. In 2009 Bates was diagnosed with breast cancer and in 2012, the foundation added breast cancer awareness and education as a focus.
This past August, the foundation hosted its first annual "Walk Where You Live" 5K Walk/Run to benefit breast cancer awareness programs operated by Mount Sinai Health System in Chicago. Nearly 200 runners and walkers helped to raise $10,000. "We could not be more pleased with this first year effort," said Barbara Bates, president of the Barbara Bates Foundation. "Our goal was to engage more community members in this effort and call attention to the great work Sinai is doing and their outreach to the community it serves."
On October 12th, the foundation hosted "Knocking Out Breast Cancer," a fashion show fundraiser hosted by actor and comedian Sinbad that featured a special collection of clothing created by Bates and modeled by breast cancer survivors.
Barbara Bates (2nd from right) with guests at the Knocking Out Breast Cancer fashion show.
(Fun fact: Bates showed her design skills as a former contestant on NBC's Fashion Star.)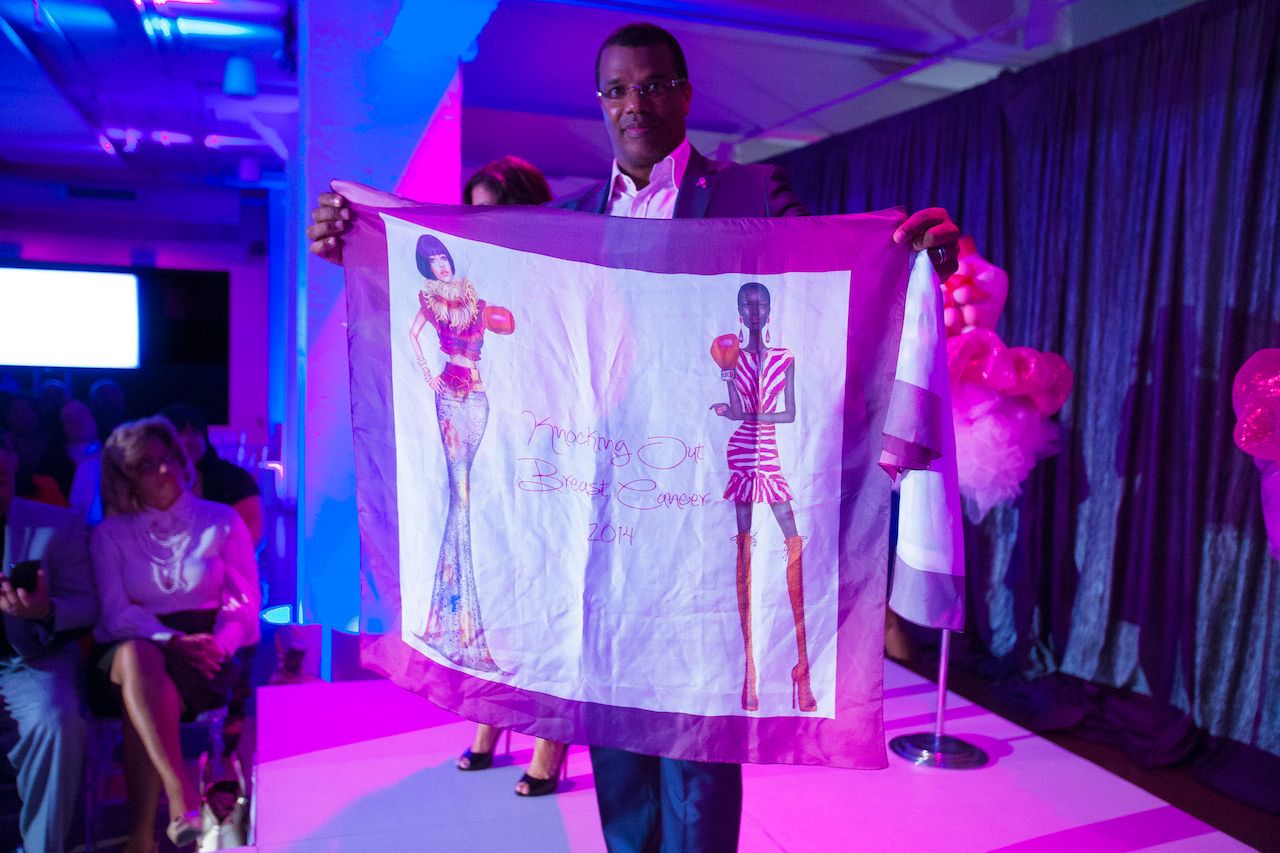 Kenny Williams, executive VP of the Chicago White Sox, shows off a specially designed scarf with proceeds
benefiting a $500,000 commitment to create the Barbara Bates Foundation Imaging Center at Mount Sinai Hospital in Chicago.
Event host Sinbad and Barbara Bates
Since 2012, the Barbara Bates Foundation has contributed over $100,000 to fund an institutional grant on 'Disparity and Education of Breast Cancer' in partnership with the Sinai Health System. The grant serves to address and educate individuals about the disparities in access to breast cancer care faced by women in the African-American and Latino communities. Karen Teitelbaum, Sinai Health System President and CEO shared with ChicagoNow.com, "We are grateful for our partnership with the Barbara Bates Foundation. It is a powerful grassroots commitment to fight breast cancer in our community." Visit the foundation's
website
to learn more.
Story Submitted by Sandra C. Davis
Sandra is a Purpose-Driven Marketing Communications/Branding Strategist and Realtor, who connects people, events, nonprofits, and companies with complementary brands and social causes that share their missions and target markets in order to amplify each entities social impact. Ms. Davis is the Creative Director of Lioness Communications and a member of the Chicago Ideas Week Cooperative. Follow Sandra on Twitter at @Sandraloves and @LionessRealtyGp.
Photo credit: Buzz McBride