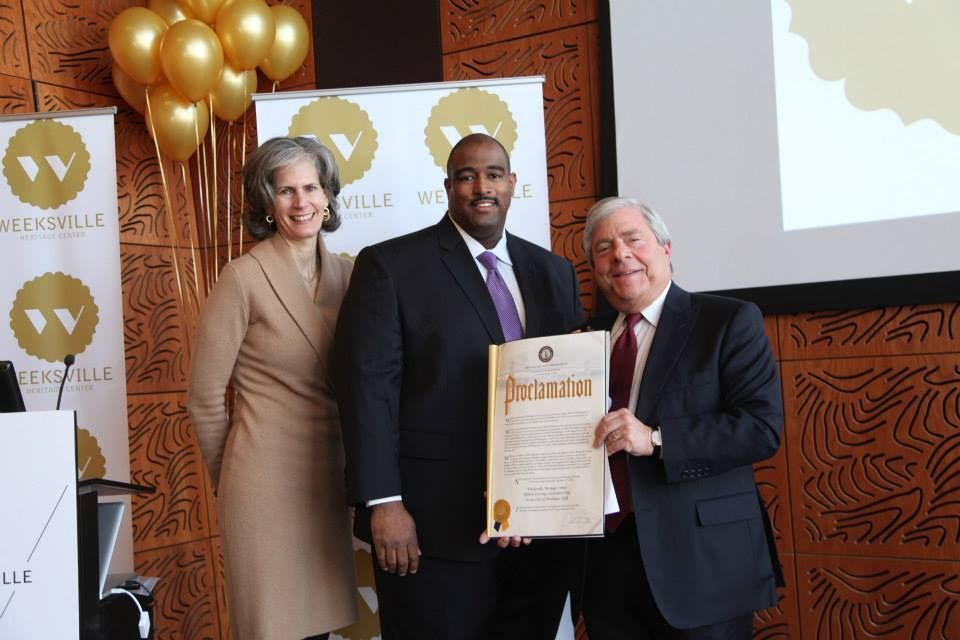 Weeksville Heritage Center Board Chair Timothy Simons (center) with former NYC Department of Cultural Affairs Commissioner Kate Levin and former Brooklyn
Borough President Marty Markowitz at the Center's ceremonial ribbon cutting for its new 23,000 square-foot Education and Cultural Arts Building in December 2013.
By Akira Barclay, Contributor
Timothy Simons
is a successful Washington, DC-based government relations executive who works with Congress, housing constituents, and the financial service industry to ensure the continued viability of mortgage lending for all communities. When the Brooklyn, NY native began seeking opportunities to give back, he set his sights first on Brooklyn, the community that raised him. Today, he serves on the board of the Brooklyn Historical Society and Bedford Stuyvesant Restoration Corporation.
He is also board chair of
Weeksville Heritage Center
, a multidisciplinary museum dedicated to preserving the history of the 19th century African American community of Weeksville, Brooklyn - one of America's first free Black communities.
According to the Center's website, Weeksville, part of the present-day neighborhoods of Crown Heights and Bedford-Stuyvesant, was an independent free black community, named for James Weeks. Weeks purchased property in 1838, along with other African American investors, in order to create an intentional landowning community. Continuing the legacy of self-determination, Weeksville's history was rediscovered in 1968 when urbanization threatened to erase the physical memory by destroying the few remaining historic homes. Instead, a grassroots preservation effort was led by artist and activist, Joan Maynard to preserve the Hunterfly Road Houses and the memory of historic Weeksville.
Read on to learn more about what inspires Tim to give back to Black Brooklyn, and how you can get involved.
What sparked your initial engagement with Weeksville Heritage Center?
As a Brooklyn native living in Washington DC, I was seeking opportunities to give back to the community where I was raised and nurtured. After conversations with family, friends and associates in New York, including Maurine Knighton, now at the Nathan Cummings Foundation, I learned of several organizations in Brooklyn looking for board members committed to helping the community. I was introduced to Pam Green, then Executive Director of the Weeksville Heritage Center. Pam taught me so much about this hidden treasure in Brooklyn, a place I had never heard of while growing up there. I learned about the important role that Weeksville plays in creating a different, very positive narrative about the history of Brooklyn's Black community and the broader narrative of the Black community in this country and I had to get involved.
Why do you support Weeksville? What is the most important aspect of your role as Board Chair?
Weeksville Heritage Center is a hidden gem of not only Brooklyn's history, but America's history. It is critically important to tell the real story about the migration of Blacks in America, telling the story the way it really happened rather than what was told for centuries in history books. There was so much positive about the obstacles overcome by Blacks and their fight for freedom and equal rights, but the history books focused largely on the oppression.
Weeksville's story is about self-determination, political activism, and community ownership and accountability. This story is rarely read in history books or in the storytelling that unfolds on today's communications channels, including the media. Therefore, our board has set course on the critical mission of being 'Ambassadors of the Greatness' that exists at Weeksville. We promote the legacies of James Weeks, Joan Maynard, and Pam Green to create positive narratives of Black determination and pride, as we ensure that the institution has the resources and expertise to effectively craft and deliver these messages through programming and exhibits.
A recent New York Times article gave a glowing review of "Funk, God, Jazz and Medicine: Black Radical Brooklyn," Weeksville's most recent project in partnership with Creative Time, but cast Weeksville Heritage Center as an institution in protracted financial crisis. What do you say to those who may doubt that Weeksville can be successful?
Many arts and cultural institutions across the country are constantly in financial flux because of the nation's economic instability and its impact on philanthropic donations by individuals, foundations and corporations. Furthermore, what we know is that Black institutions suffer even more in uncertain economic climates. But, Weeksville Heritage Center is on an upswing. Our amazing new president, Tia Powell-Harris, is placing a priority on building critical partnerships that are paying major dividends for Weeksville. We have a stunning new facility that allows Weeksville to provide programming throughout the year. We have a Board of Trustees that is growing to meet the institutional needs of the organization. We will soon hire a development manager, who will raise funds to sustain our growth. These important developments over the last 10 months reaffirm our bright future, as does support from the Ford Foundation. Still, part of our message is that Black institutions need support from the Black community to thrive. We are encouraging 'our community' to follow the lead of the Ford Foundation and other supporters by making a long-term commitment to sustaining our work.
The Black community has a vested interest in ensuring that our collective history is around for generations to come. As board chair, I actively make donor visits with the president, and one of the first questions asked is about the composition and demographics of our contributors. It's always a difficult conversation when we have to acknowledge that only two of our top ten individual donors are Black. This must change. Your readers can be part of that change. If every reader could contribute something, $10 a week, $40 a month, or $500 a year, it would support Weeksville and help preserve a vital component of Black history in America. Your donations would help us change the narrative from negative to positive, as we tell the authentic story of Blacks in America and Blacks in Brooklyn.
Beyond donations, in what other ways can readers support Weeksville in preserving this important part of African American history?
The next best way to support Weeksville is by participating. Show up for our programs and exhibits; plan a trip to tour the houses; join our mailing list to stay abreast of the latest happenings; learn the history of Weeksville and open the door to introducing someone else in your community, especially youth, about our story. There is always something going on at Weeksville. Our most recent partnership with Creative Time is a demonstration of the programmatic excellence that partnerships will yield for Weeksville. Expect more of these collaborations in the coming months, including 'In Pursuit of Freedom,' the story of Black Abolitionists in Brooklyn. It's a collaboration with two other Brooklyn based organizations, Brooklyn Historical Society and Irondale Ensemble.
There are plenty of programs coming to Weeksville in partnership with some equally great organizations in Brooklyn such as the Bedford Stuyvesant Restoration Corporation, BRIC Media House and DIVAS for Social Justice. These collaborations are part of an overall push by the president to focus Weeksville on achieving the things we do well while ensuring that the community has the programming that it needs and wants at Weeksville. We invite the BGB community to join us at every opportunity.
Learn more about Weeksville Heritage Center and the history of its Hunterfly Road Houses at
http://www.weeksvillesociety.org/
.