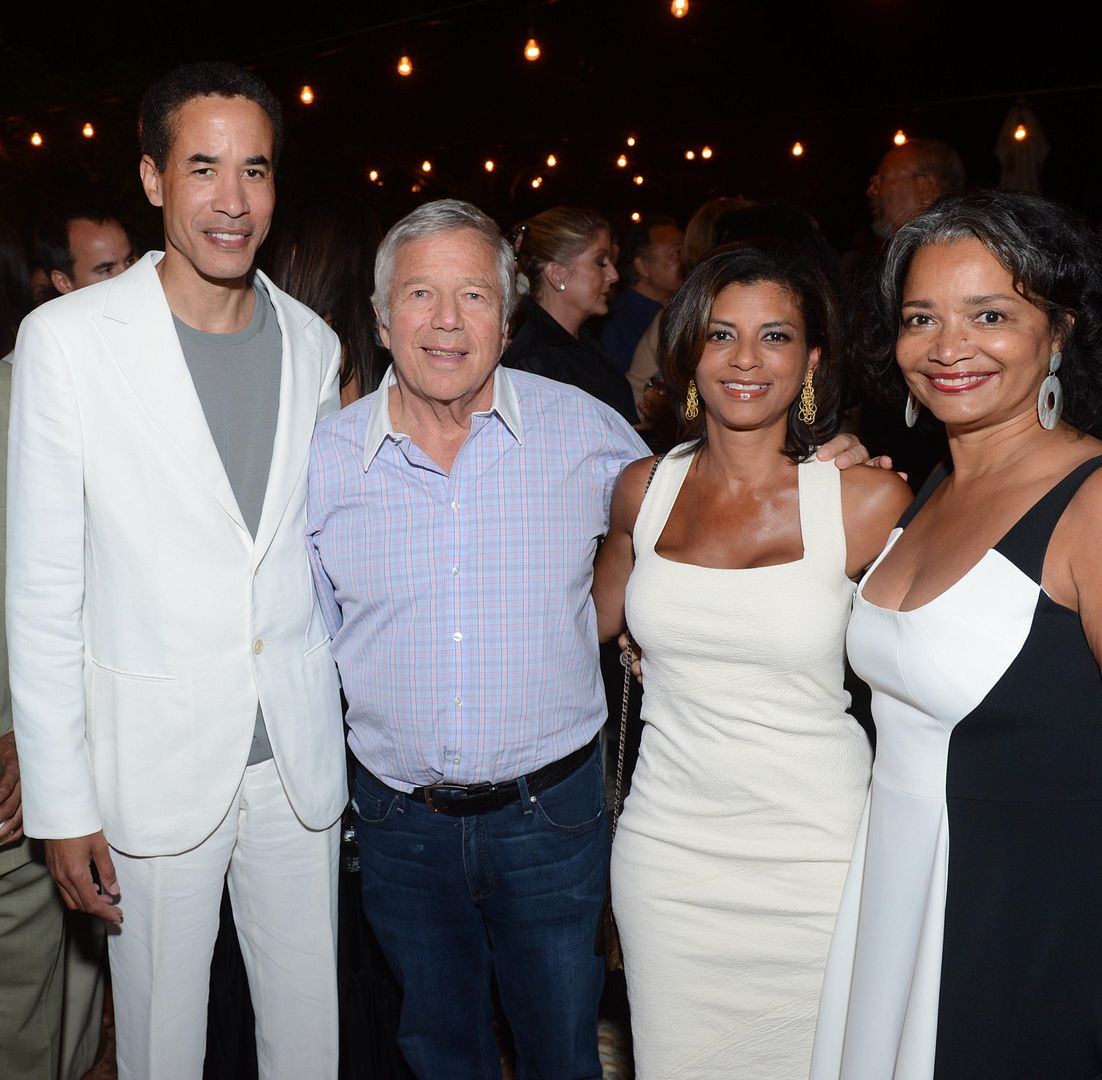 Charles Phillips, Robert Kraft, Karen Phillips and Jonelle Procope at
Apollo in the Hamptons event in August.
Harlem, NY – The legendary Apollo Theater has announced the election of six new members to its Board of Directors:
Robert K. Kraft
, Founder, Chairman and CEO of The Kraft Group;
Jason L. Mathews
, Managing Director at Goldman Sachs;
Carolyn Minick Mason
, seasoned labor and employment lawyer;
Charles Phillips
, Chief Executive Officer of Infor ®;
Pharrell Williams
, Grammy-award winning artist and music producer; and
Bronson van Wyck
, hospitality and event design expert. These notables join the now 32 member Board chaired by
Richard D. Parsons
comprised of business, civic, philanthropic and cultural leaders.
"I couldn't be more pleased to welcome these six individuals to the Apollo Board. It is such a wonderfully diverse group of professionals, each representing the very best in their respective fields. They all understand the incredible legacy of the Apollo's contributions to American culture and are equally committed to investing in its future," said Richard Parsons. "I know that the collective knowledge and insight of these new Board members will be a wonderful and valuable addition as we guide the Theater forward."
Jonelle Procope
, President and CEO of the Apollo Theater stated, "As a cultural and economic anchor for the Harlem community, and a driving force for shaping so many up-and-coming artists today, we rely on the visionary leadership of our Board of Directors to help ensure we fulfill every aspect of our mission. We are pleased to welcome Bob, Jason, Carolyn, Charles, Pharrell, and Bronson to our Board of distinguished leaders."
Charles Phillips, former President of Oracle ® Corporation and co-founder of Phillips Charitable Organization shared with BlackGivesBack, "I am delighted to join the Board of the Apollo Theater which is a national treasure that has contributed so much to American culture and influenced artists globally. As a life-long lover of music and New Yorker for 30 years, it's been gratifying watching the Apollo Theater thrive under Jonelle's leadership."
The Apollo Theater recently kicked off its 2014-2015 season with the third installment of the annual Africa Now! Festival, spotlighting today's South African music scene. The Theater's season continues with The New Orleans Project on November 7-8, 2014, featuring Irvin Mayfield curating a weekend of events including a mainstage concert on the Apollo's legendary stage with Aaron Neville and two special Apollo Music Café shows with Stefon Harris and Jonathan Batiste, respectively. The Apollo will also present an international tour for the first time in its history during the 2014-2015 season — its original production of James Brown: Get on the Good Foot—A Celebration in Dance.
The Board of the Apollo, a nonprofit institution since 1991, is a vital force guiding the growth of the Theater's artistic, education and community programming, fundraising, and strategic planning. The Theater is currently in the midst of fundraising for its
21st Century Apollo Campaign
, created to extend the institution's role in fostering artistic innovation and in building appreciation of American culture around the world. For more information, visit
www.apollotheater.org
.
Source: Press release