Museum named an official Smithsonian Affiliate in conjunction with reopening
Reopening activities include the new exhibitions Drapetomania and Lava Thomas: Beyond
SAN FRANCISCO – Museum of the African Diaspora (MoAD), a San Francisco-based arts and cultural institution dedicated to preserving and sharing stories of a common African heritage, reopened on December 3, 2014 following a six-month makeover. The museum, now a Smithsonian affiliate, joins a national network of cultural institutions that partner with the Smithsonian to share resources and expertise. Among the new exhibitions on display: Drapetomania and Lava Thomas: Beyond.
Renovations to the building, which first opened in 2005, refreshed the museum's overall look and feel and also created more exhibition space. The renovation is the first major step in an effort to transition the facility from a museum that houses temporary exhibits into a fine arts museum with a national presence that showcases both permanent and rotating collections. Designed by Gensler, the refreshed look and expanded exhibition space also will give MoAD the capacity needed to grow its community, educational and outreach programs.
"We could not be more excited to unveil MoAD's grand makeover which will give us the space we need to explore how African culture has – and continues to – influence our world," said Linda Harrison, executive director of MoAD. "Whether you're a first-time visitor or a MoAD alumnus, we hope this transformation of the museum and our new exhibitions will help you to understand the important connections we all share with Africa and the African Diaspora."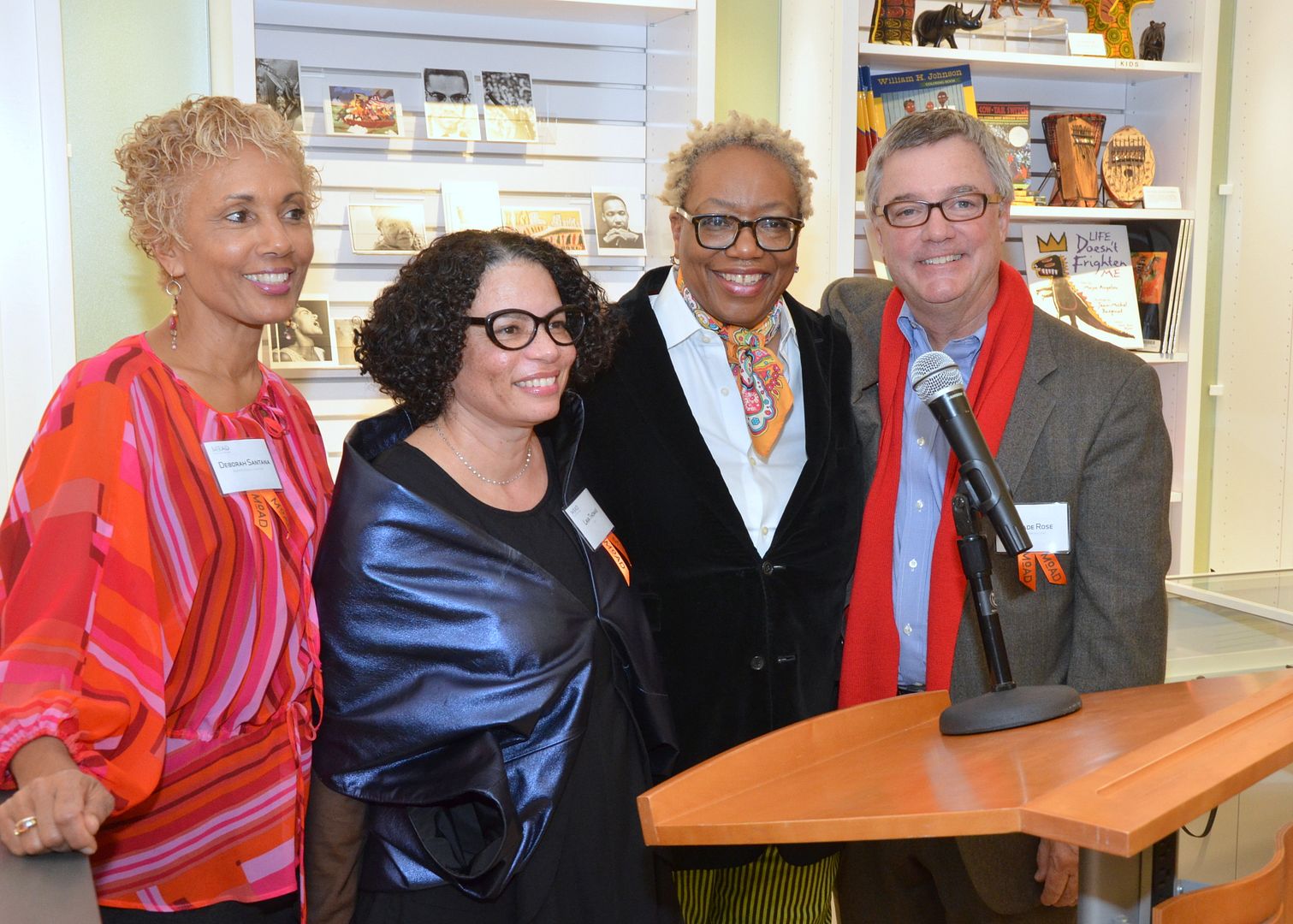 Deborah Santana, Vice Chair, MoAD Board of Directors (left) and Linda Harrison, MoAD Executive Director (2nd from right) with MoAD board members
As a new affiliate of the Smithsonian Institution, MoAD will have access to its 136 million artifact collection for research, exhibits and programming. MoAD joins a network of more than 190 organizations in 45 states, Puerto Rico and Panama with a shared goal of creating lasting experiences that educate, inspire and broaden perspectives on science, history, world culture and the arts. In addition, MoAD will have the opportunity to offer its members the Smithsonian Affiliate Membership Program, exclusive use of the Smithsonian Affiliate logo and professional development opportunities in Washington, D.C.
"We're delighted to begin this new affiliate partnership between MoAD and the Smithsonian Institution, one that builds on shared missions, a commitment to education and prior collaborations," said Harold A. Closter, director of Smithsonian Affiliations. "Since its founding in 2005, MoAD has been a beacon to the museum community by applying innovative exhibition ideas to the study of living communities and their cultures. We welcome the opportunity to work together through the sharing of our knowledge base, collections and traveling exhibits to place the story of human migration in local, national and global contexts."
MoAD is uniquely positioned as one of the few museums in the world to focus exclusively on the African "Diaspora," or the migration of people from their homeland. MoAD explores the cultural shifts that resulted from African people moving around the globe throughout history by way of art, exhibitions and community programs.
In the newly designed space, MoAD continues to focus on its four key themes: origins, movement, adaptation and transformation. These provocative exhibitions present the contemporary art of people of African descent, and they also help to present the culture and history of the African Diaspora.
To learn more and to support MoAD, visit
www.moadsf.org
.
Source: Press release