Will Brown Jr., Gala Co-Chair; Rev. Jacques Andre DeGraff; Phil Banks III, Honoree;
Michael J. Garner, President, OHBM; Robert B. Brown, 3rd VP, OHBM and CFO, New York Yankees
NEW YORK, NY—The Board of Directors of One Hundred Black Men, Inc. (OHBM) of New York honored seven business and civic leaders at the organization's 35th Annual Benefit Gala held on Thursday, February 19. Nearly 500 guests attended the gala at the New York Hilton Hotel that honored
Torrence Boone
, Global Head of Agency Sales & Services, Google;
Duane C. Farrington
, Executive Vice President and Chief Administrative Officer, State Farm;
Carla A. Harris
, Vice Chairman, Wealth Management, Morgan Stanley;
Hon. Charles B. Rangel
, Congressman, U.S. House of Representatives;
Amar'e Stoudemire
, professional basketball player, six-time All-Star New York Knicks power forward, actor, author, producer, motivational speaker and philanthropist;
Gary Smalls
, recognized as Mentor of the Year;" and Former NYPD Chief of Department
Phillip Banks III
who received a special surprise award – The Robert J. Mangum Founders' Award.
"It is my distinct privilege to join you tonight to celebrate 52 years of leadership, advocacy and community service, by honoring individuals whose professional leadership, service and empathy for others are consistent with the mission and vision of our founders and the core values of One Hundred Black Men, Inc. of New York," said
Michael J. Garner
, recently named president of the group.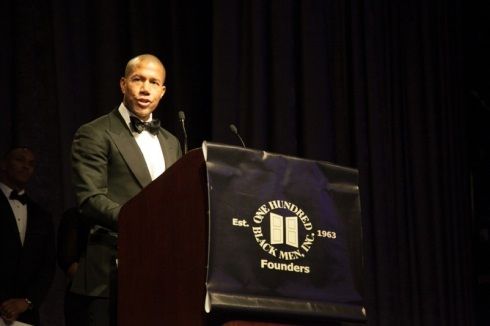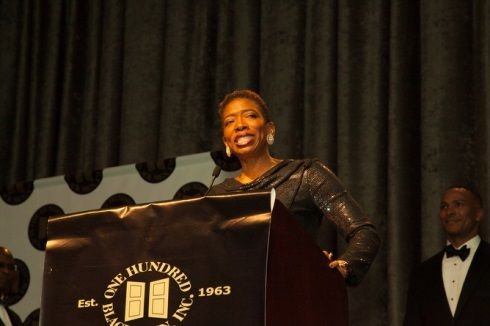 Honorees Torrence Boone and Carla A. Harris
The audience was wowed by remarks from
Brenton James
, 2014 valedictorian for the Eagle Academy for Young Men (an OHBM-founded school) who was accepted to each of the 21 colleges to which he applied, and who attends the University of Pennsylvania as the first student in Eagle Academy history to be accepted into an Ivy League institution. He stated, "I understand that there are a number of business professionals in the room. I'm sure that the term "return on investment" is often mentioned in your workplace. My name is Brenton James and I stand before you as your return on investment and my value appreciates each day. "
WBLS Radio Personality
Shaila Scott
and
Mike Woods
, Meteorologist, Good Day New York, WNYW Fox5, were co-emcees of the black tie fundraiser that featured a cocktail reception followed by dinner and an awards program. The after-party entertainment was provided by R&B super group The Force MDs.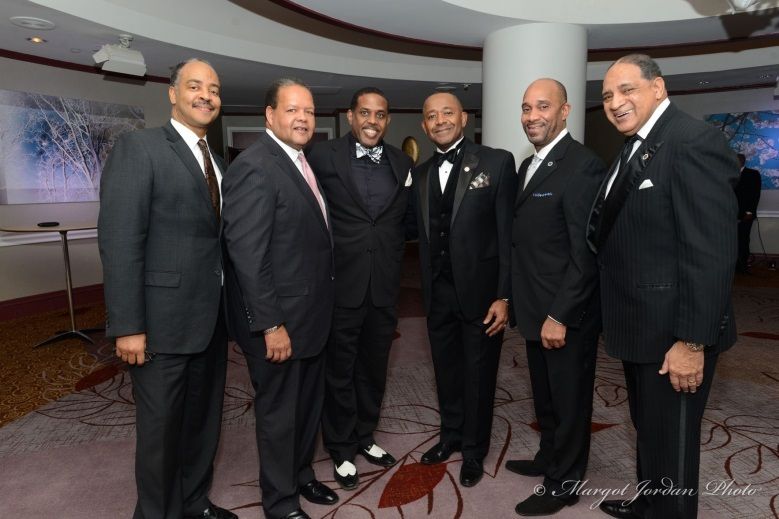 Michael Jones-Bey, Director, Supplier Diversity, Con Edison; Dr. Rudy Crew, President, Medgar Evers College;
Hon. Kevin Parker, NYS Senator; Steven A. Board, Executive Director, OHBM of NY; Michael J. Garner,
President, OHBM; Hilton O. Smith, OHBM Board Member and Senior VP, Turner Construction Company
Gala Co-Chairs were
Robert B. Brown
, CFO, New York Yankees and
Will Brown, Jr.
, President, Brown Companies And Associates, Inc. The Gala Committee included
John H. Austin, Jr.
,
Steven A. Board
,
Frederick E. Davis, Jr.
,
Anthony Dupree
,
Aldrin K. Enis
,
Michael J. Garner
,
James Harrison
,
T. Terrence McKinney
,
Kaliv Parker
, and
Hilton O. Smith
.
Among the guests were
Hon. David Dinkins
, Manhattan Borough President
Gail Brewer
, Councilmember
Inez Dickens
, NYS Chief Diversity Officer
Mecca Santana
, New York City Comptroller
Scott Stringer
, Public Advocate
Letitia James
, New York State Senator
Ruth Hassell-Thompson
, Assemblyman
Walter Mosley
, and
Hazel Dukes
.
About One Hundred Black Men of New York
One Hundred Black Men, Inc. of New York was founded in 1963 when a group of successful African American men came together to pool their resources to positively impact the Black community. One Hundred Black Men, Inc.'s service projects focus on mentoring, education, health and wellness, and economic empowerment. The organization has a long and successful history of working with its corporate and community partners to make significant differences in the lives of the communities it serves. A celebrated example is the establishment of The Eagle Academy for Young Men in the Bronx, with a focus on academic excellence, leadership and character development. Eagle Academies have since opened in Brooklyn, Queens, Newark, NJ, and Harlem.
For more information, call 212-777-7070 or visit
www.ohbm.org
.