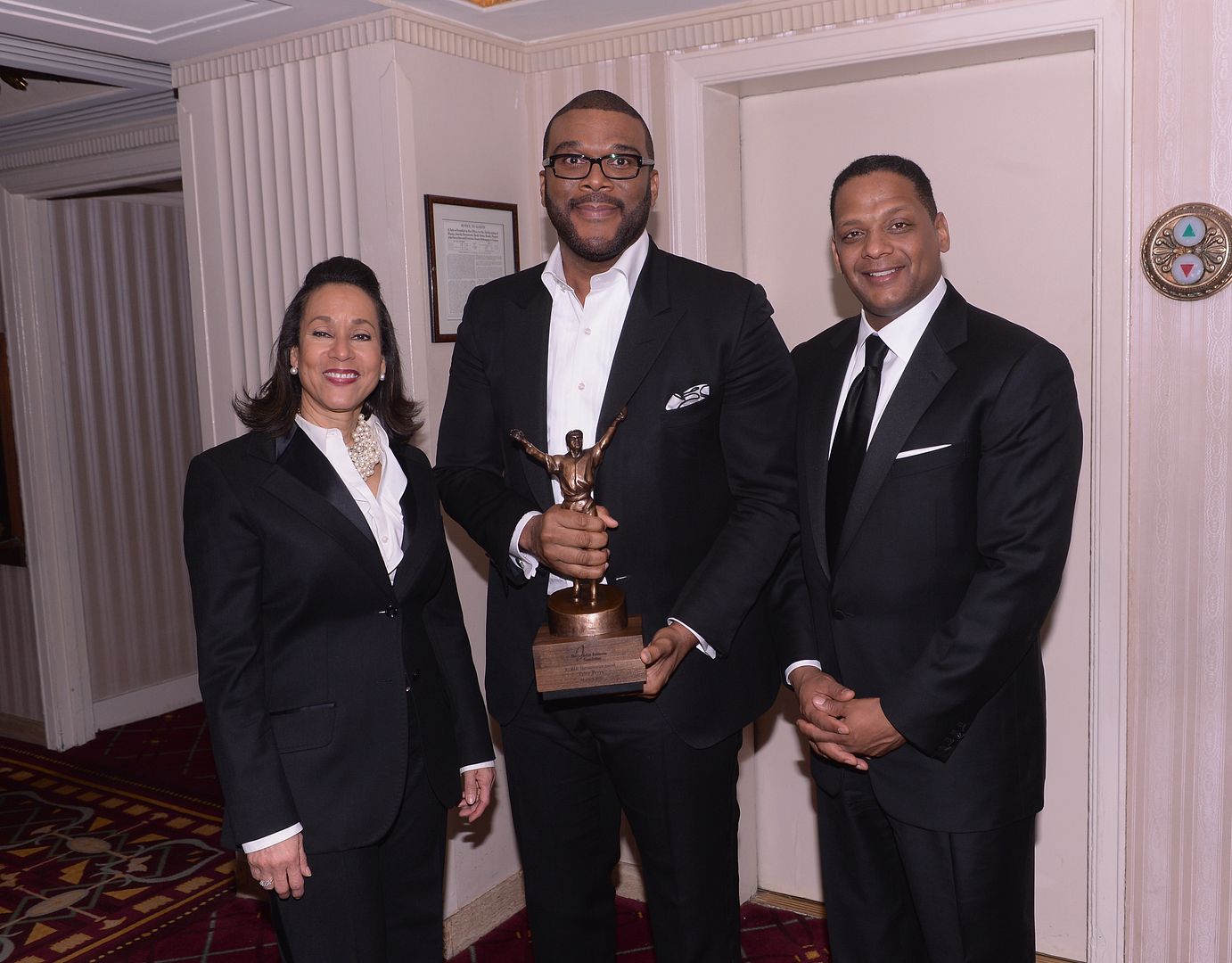 JRF President & CEO Della Britton Baeza, Tyler Perry, RF Chairman of the Board of Directors Gregg Gonsalves
Gala honored Tyler Perry, Gerald Hassell and Don Thompson
NEW YORK, NY – On Monday, March 9, 2015, The Jackie Robinson Foundation (JRF) honored Chairman and CEO of BNY Mellon,
Gerald L. Hassell
, retired President and CEO of McDonald's Corporation,
Don Thompson
, and filmmaker and philanthropist
Tyler Perry
at its black-tie Awards Dinner held at the Waldorf Astoria. In front of nearly 1,000 guests who attended the cocktail receptions, dinner and awards ceremony, each honoree was escorted to the stage by a JRF Scholar and recognized for embodying the humanitarian ideals of Jackie Robinson through devoting their lives to the promotion of social justice, excellence and human dignity. The gala raised $1.3 million for the Jackie Robinson Foundation's unique scholarship program that provides financial grants in addition to mentoring and leadership training for minority college students, and for the Jackie Robinson Museum project. The evening kicked off with a rendition of "Did You See Jackie Robinson Hit That Ball?" performed by
Ray Chew Live
, and featured a performance of "It's You," "I Can't Stop Lovin' You," and "Love Calls" by GRAMMY Award-nominated vocalist
Kem
. Hosted by actor
Andre Holland
(
42
and
Selma
), guests also listened to remarks from the three honorees, chairman of JRF,
Gregg Gonsalves
, president and CEO of JRF,
Della Britton Baeza
, and three JRF Scholars.
Don Thompson received the ROBIE Achievement in Industry Award, the Foundation's highest tribute to an outstanding individual who has promoted and expanded access and opportunities in the corporate sector. Gerald L. Hassell, likewise, was honored for his commitment to ensuring opportunities to all constituent groups who make up the global workforce by receiving the ROBIE Achievement in Industry Award. Tyler Perry received the Foundation's ROBIE Humanitarian Award, which is presented to an individual who has worked to promote equal opportunity, social justice and humanitarianism.
JRF Chairman of the Board of Directors Gregg Gonsalves, JRF President & CEO Della Britton Baeza,
JRF Founder Rachel Robinson,
JRF Scholar Rashaun Bennett, and retired
McDonald's President & CEO, Don Thompson
Gregg Gonsalves, Della Britton Baeza, Rachel Robinson, BNY Mellon Chairman and CEO Gerald L. Hassell,
JRF Scholars Neima Patterson and Angel Nwachukwu


Sponsors of The Jackie Robinson Foundation's Annual Awards Dinner included BNY Mellon, Praxair, Inc., Major League Baseball, Omnicom Group, Inc., New Era Cap Co., Inc., Chubb Group of Insurance Companies, American Express, Ariel Investments, Citi, The Coca-Cola Company, Credit Suisse, Deloitte, Deutsche Bank AG, Martin L. Edelman, Esq., Ford Motor Company, GCM Grosvenor, GE, Guardian Life Insurance Company, McDonald's Corporation, Northrop Grumman Corporation, Perella Weinberg Partners, Joseph J. Plumeri, New York Mets and Nike.
Visit the website at
www.jackierobinson.org
.
Press Release; Photo credits: Stephen Lovekin/Getty Images and John Vecchiolla/JRF