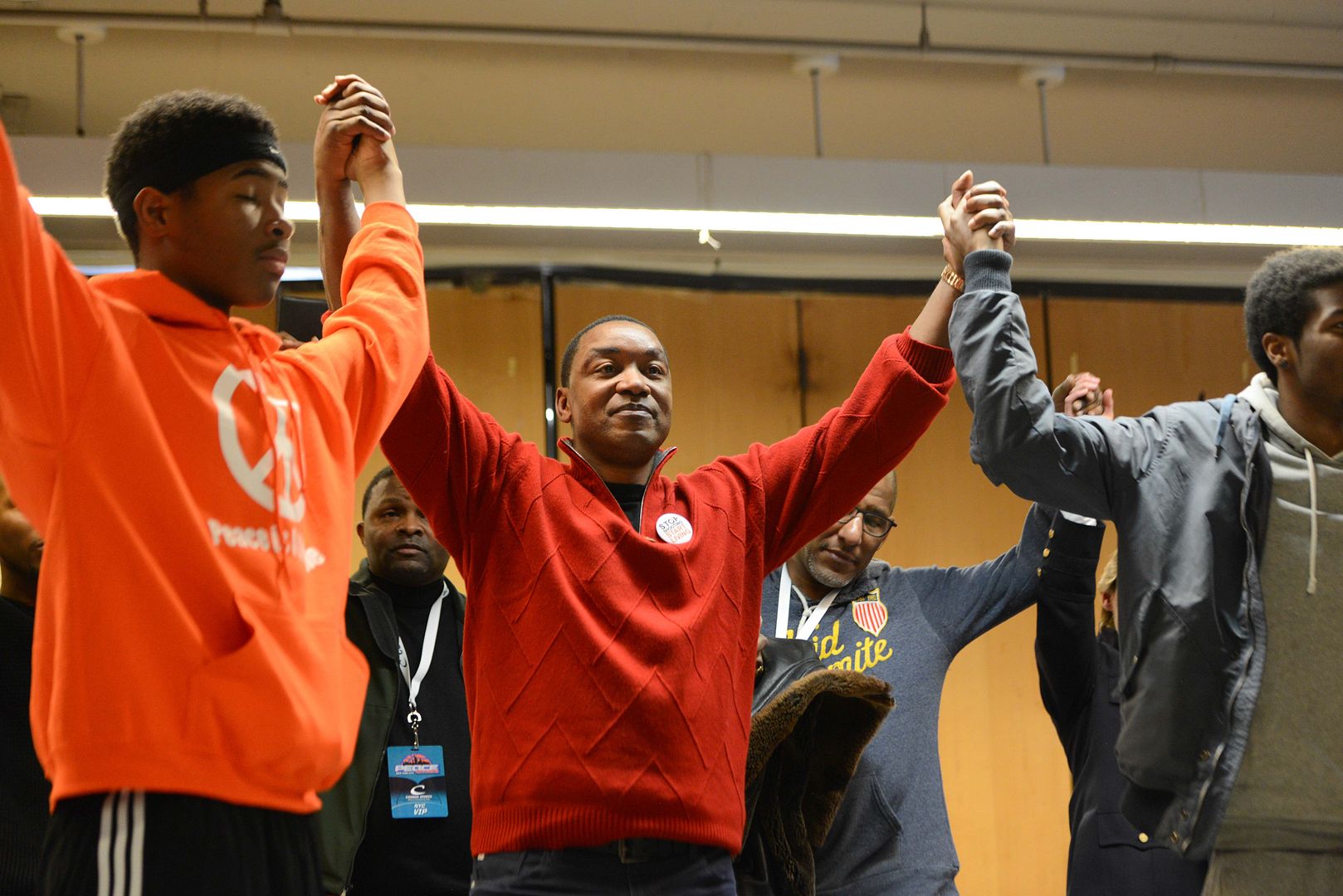 Isiah Thomas participates in the Peace Games Tournament during the 2015 NBA All-Star Weekend in Harlem, NY
Mary Thomas, a single mother from Chicago's West Side, raised nine children on a limited income. She sacrificed a great deal to ensure that not just her children, but all children in the community would have a better life. Her story of service and dedication was profiled in the 1989 movie "A Mother's Courage: The Mary Thomas Story" starring Alfre Woodard. Today her memory lives on through
Mary's Court
, a family foundation created in 2010 by her son, NBA Hall of Famer
Isiah Thomas
.
The mission of the foundation is to create a model for schools and communities that inspires academic success, promotes good health, encourages housing and economic development, and builds safe communities.
During NBA All-Star Weekend 2015, Thomas in conjunction with his friends Cure Violence, HELP USA, Joakim Noah-Noah's Arc Foundation, Pro Hoops and Connor Sports hosted the Peace Games Tournament in Harlem, NY for local youth. The event's goal was to create a safe space in New York City where young people could interact with community leaders and law enforcement with the hopes of building mutual respect and reducing the political and cultural tension within the community. Teens and young adults from all five boroughs came together for a conversation on crime and improving community relations. The standing room only event attracted the Commanding Officer of Manhattan North, Chief Kathleen O'Reilly; Commanding Officer of Patrol Services Bureau, Chief Carlos M. Gomez; the legendary Harry Belafonte; and a host of current NBA and WNBA players and local community leaders.
The Peace Games Tournament first started in Chicago as part of the Peace League that brings together young men from various communities and provides them a safe space to meet each other, learn leadership values through teamwork, and work through their differences through sport. Established in 2011 by Isiah Thomas and Father Michael Pfleger of The Faith Community of Saint Sabina, the tournament represents more than a game—it is an opportunity to break down barriers and help young men make positive changes in their lives and communities. The basketball tournament has grown into a program that now offers GED classes, employment training and internship opportunities.
To learn more about Mary's Court, visit
www.maryscourt.com
.
Photo credit: Brittni Moten