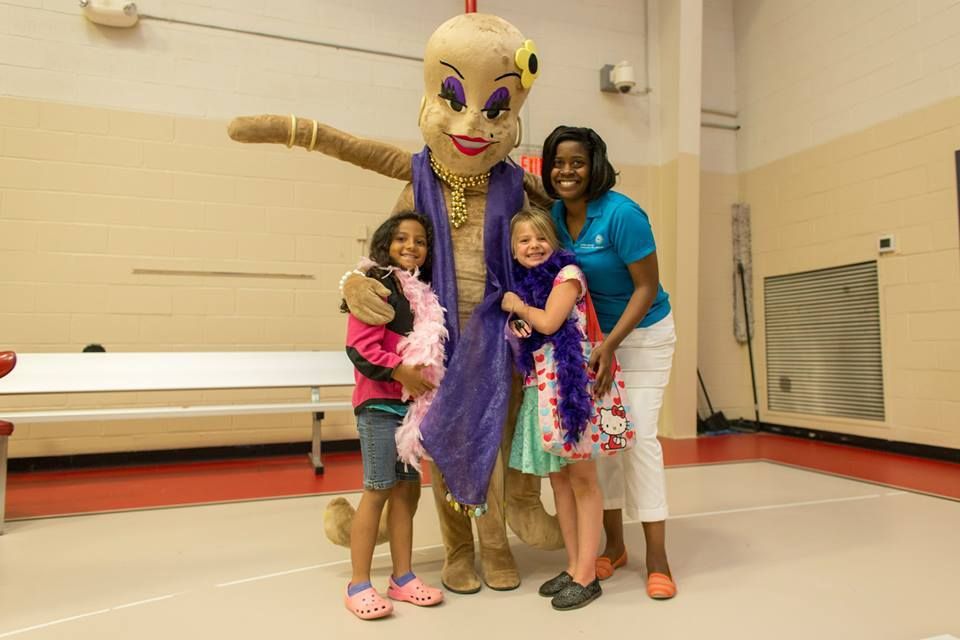 Ebony Perkins with children at a philanthropic event on Shaw Air Force Base in South Carolina.
A series by BGB Contributor Valaida Fullwood initiated for Black Philanthropy Month 2015 and aimed at informing, inspiring and investing in philanthropic leadership
"Why would I not help others and future generations when I was helped in the past. We should help every generation so that we all grow more."
This is the creed by which
Ebony L. Perkins
lives.
Perkins is Donor Relations Manager at
Central Carolina Community Foundation
in Columbia, South Carolina. She is a solution-oriented administrator and gifted at establishing and maintaining strategic partnerships and networks. Prior to the Foundation, Perkins was a marketing consultant for Brookland Federal Credit Union. She also served as an intern to governmental offices at the local, state and federal levels—including Congressman James E. Clyburn and Governor Mark Sanford.
Perkins holds a Master of Public Administration from the University of North Carolina at Chapel Hill and a Bachelor of Science in Marketing from Claflin University as a summa cum laude graduate. She is also a graduate of the Women's Leadership Institute at Auburn University. Her commitment to investing back into the community is evident by her volunteer service and considerable contributions to the FAAAC—an affiliate of the Columbia Museum of Art, Women in Philanthropy, Columbia Lions Club, Columbia Opportunity Resource (COR) and Columbia College. In observance of Women's History Month 2015, The Blindspot Art Foundation named Perkins a "Woman on the Move."
Q&A
What's your inspiration for giving?
As most children do, when I was a little girl I often overlooked my many blessings. I soon began to realize, however, that everyone didn't have the incredible support system or wonderful opportunities that I frequently took advantage of. Once I really understood how fortunate I was, I realized that it was my responsibility to use my blessings to help others. I now live my life knowing that to whom much is given, much is expected.
What's one lesson you
'
ve learned from your philanthropy?
Through my work in philanthropy, I've learned that it's critical that those in the world see that there are African American philanthropists. We matter because today's youth need to know that African Americans aren't only on the receiving end of philanthropy, but that our time, talents, and treasures have the power to make a difference in the lives of others. Knowing that African American philanthropists exist gives other African Americans permission to embrace their inner philanthropist.
What do you aspire to see in this season of change, following Ferguson, Baltimore, Charleston, and so on?
During Sanford, Ferguson, and Charleston, it broke my heart to see the massive amount of money raised in support of the monsters that murdered innocent young men in our country. I was angered to see how many people used the power of giving for hate. But once I really had the chance to think about what happened, it encouraged me to educate our community about the importance and power of philanthropy. More importantly, I'm hopeful because, if millions of dollars were raised because of hate, imagine what we can do out of love.
Submitted by Valaida Fullwood
Described an "idea whisperer," Valaida brings unbridled imagination and a gift for harnessing wild ideas to her work as a writer and project strategist. She is a founding member of Charlotte's New Generation of African American Philanthropists, author of Giving Back: A Tribute to Generations of African American Philanthropists and innovator for the touring exhibition "Giving Back: The Soul of Philanthropy Reframed and Exhibited." Follow @ValaidaF and
valaida.com
.
Upcoming Black Philanthropy Events in South Carolina
August 28: COLA Gives (A Community Organized to Leverage Assets), the first African American giving circle in South Carolina, will host its annual meeting. Open to the public. More information
here
.
August 29: W.E. (Women Engaged), an African American giving circle, invites you to join a multigenerational discussion on "Giving Back" in conjunction with the Soul of Philanthropy art exhibit. Location: Frame of Mind, 140 State Street, W. Cola, SC. Time: 5-7pm. Register
here
.