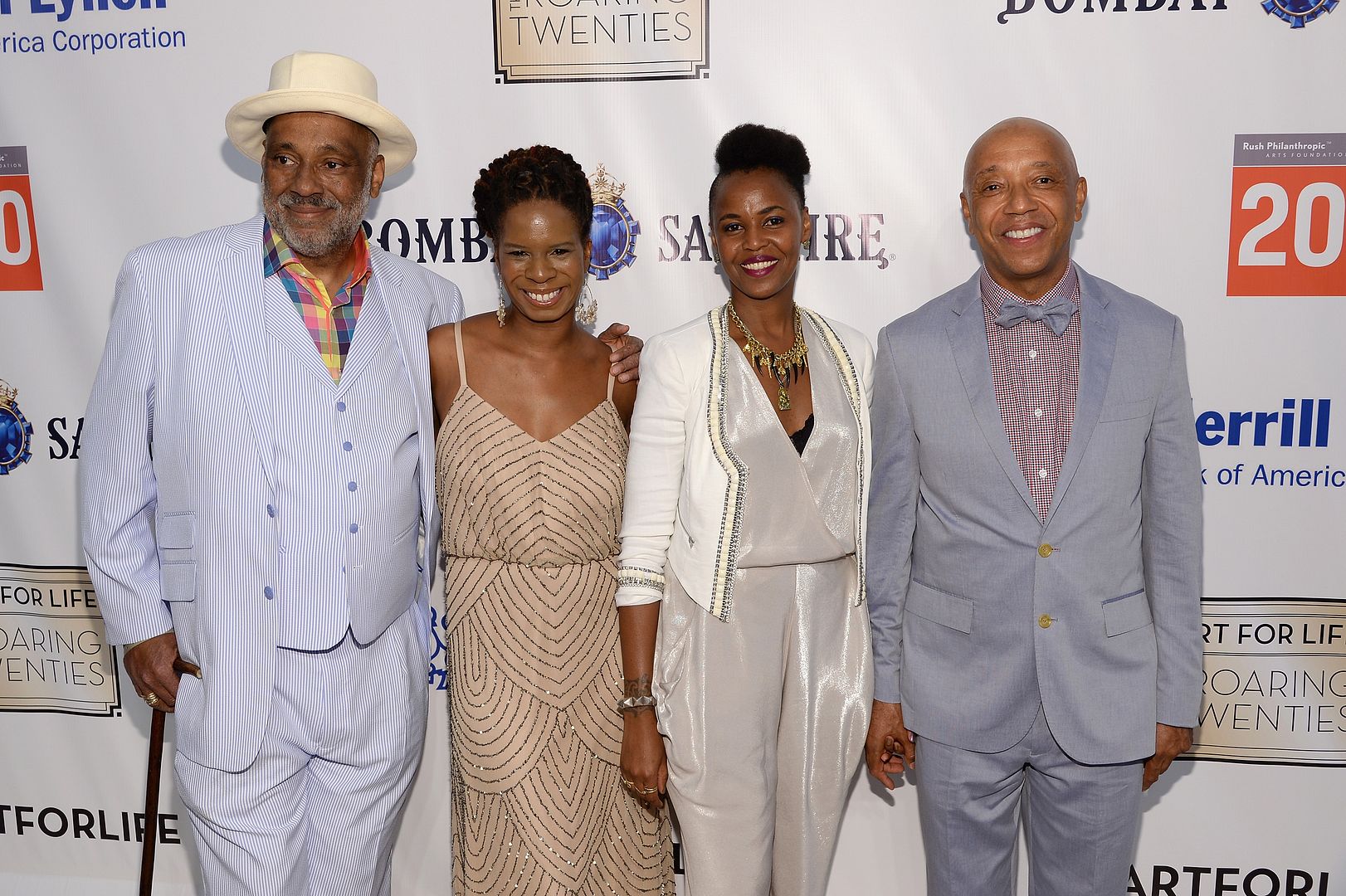 Danny Simmons (Rush Philanthropic co-founder), Tangie Murray (Rush Philanthropic executive director),
Wangechi Mutu (Art For Life 2015 featured artist) and Russell Simmons (Rush Philanthropic co-founder) celebrate
Rush Philanthropic Arts Foundation's 20th Anniversary at the Annual Art For Life Benefit on July 18, 2015 in Water Mill, New York.
Simmons Brothers Mark Two Decades of Transforming Young Lives Through the Arts
New York, NY — Founded in 1995 by three brothers,
Rush Philanthropic Arts Foundation
works to expose inner city youth to the arts and supports emerging artists with exhibition opportunities. Together, the Simmons brothers—Danny (visual artist), Russell (media magnate) and Joseph "Rev. Run" (founding member of Run-DMC)—established the nonprofit organization to bridge the gap that people of color and the disenfranchised face in accessing the arts and exhibiting their works.
"Art saves lives, it is that simple," asserts Co-Founder
Russell Simmons
. Rush Philanthropic aims to inspire students, provide positive alternatives to high-risk behaviors and support increased academic performance. Its initiatives rest on the belief that when young people gain opportunities to engage in and appreciate the arts—music, dance, poetry, painting, sculpture—they grow to value their own distinctive voices and visions and their lives are thereby transformed.
Over the past 20 years, Rush Philanthropic has developed two main program areas: Rush Education art programs for youth and Rush Arts Galleries, which supports and features emerging artists nationwide. These two program areas work seamlessly to remove barriers and open the arts to a wider cross-section of people. Directly serving over 3,000 students each year, Rush Education programs include Rush Little Kids, Rush Kids, Rush Teens and Rush Galleries in Schools. Rush Arts Galleries—Rush Arts Gallery in Chelsea, Manhattan and Corridor Gallery in Clinton Hill, Brooklyn—have exhibited the works of over 100 emerging and community-based artists. The galleries draw more than 10,000 visitors and provide unique opportunities for young people interested in careers in the arts.
Rush Philanthropic's signature event is the
Art For Life
benefit in the Hamptons. The 16th annual gala, held on July 18 in Water Mill, NY drew hundreds of stylish celebrities, artists and philanthropists. "The Roaring Twenties" theme, in celebration of the organization's 20th anniversary, inspired guests' styles.
Soledad O'Brien
served as emcee during the evening that honored luminary supporters of the arts: Comedian
Dave Chappelle
, Art Collectors
Michaela and Simon de Pury
and Film Director
Ava DuVernay
.
Wangechi Mutu
was the featured artist, and the R&B group
Bell Biv DeVoe
closed out the night with a high-energy performance. Event sponsors were Bombay Sapphire and Merrill Lynch.
Speaking on the 20th year milestone,
Tangie Murray
, executive director of Rush Philanthropic for more than a decade, stated, "It's really remarkable. One the biggest things that I'm excited about is seeing the transformation of the students that we work with. How they grow and get older, yet we always offer programs to continue to meet their needs."
Tangie Murray, Soledad O'Brien, Russell Simmons, Ming Lee Simmons, Danny Simmons and
Rush Philanthropic art program participants on stage at the 16th Annual Art For Life Benefit.
Submitted by Valaida Fullwood
Described an "idea whisperer," Valaida brings unbridled imagination and a gift for harnessing wild ideas to her work as a writer and project strategist. She is a founding member of Charlotte's New Generation of African American Philanthropists, author of Giving Back: A Tribute to Generations of African American Philanthropists and innovator for the touring exhibition "Giving Back: The Soul of Philanthropy Reframed and Exhibited." Follow @ValaidaF and
valaida.com
.
Photo credit: Andrew Toth and Johnny Nunez/Getty Images for Rush Philanthropic Arts Foundation