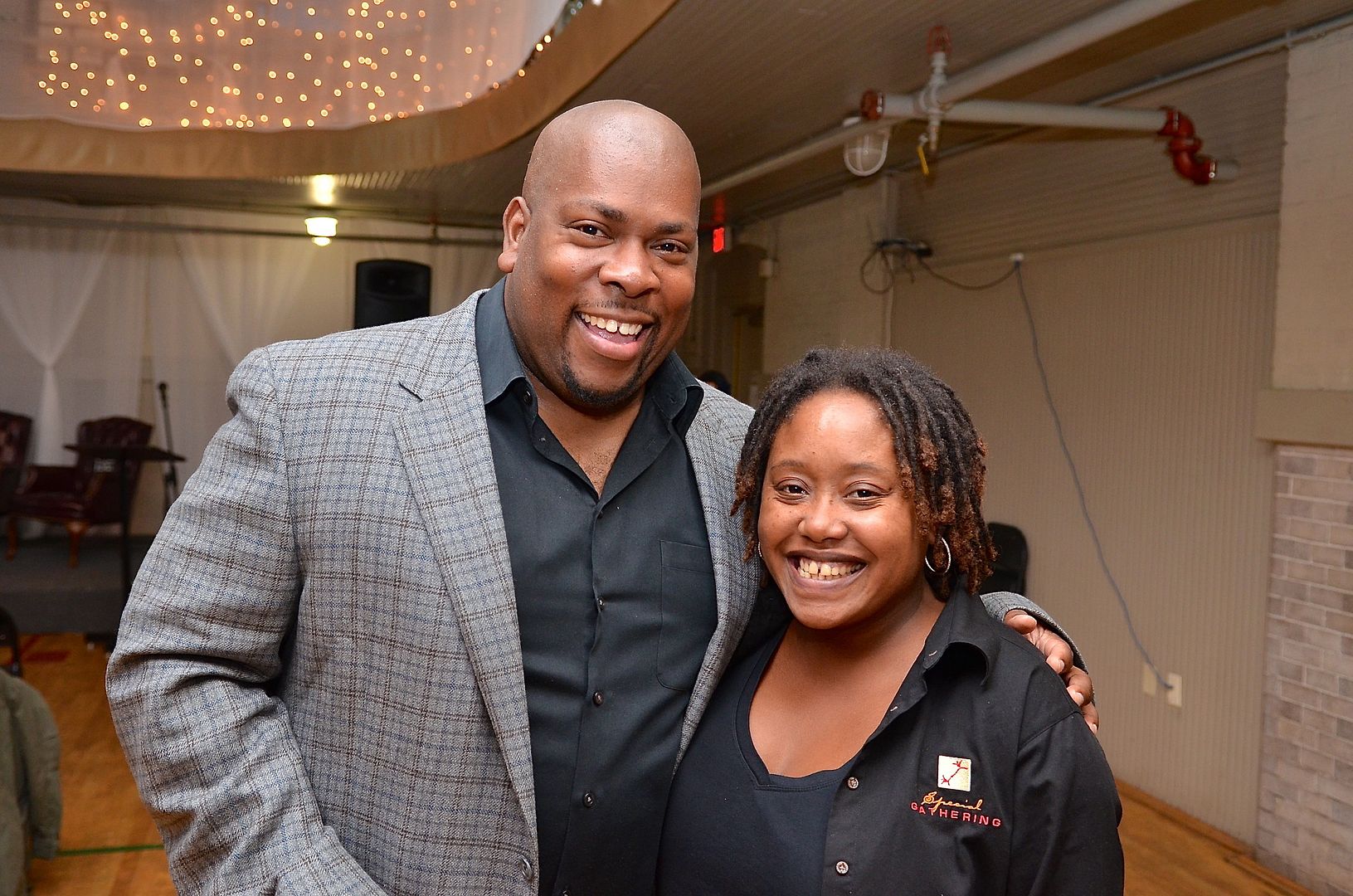 Dani Johnson (right), founder of Special Gathering with Marcus Littles of Frontline Solutions at the 11th
Annual Community Investment Network Conference in October 2015.
Event planner Dani Johnson has a unique focus for her special events company – philanthropy. In fact, it's her sole focus. Launched in 2005,
Special Gathering
is a national leader and expert in philanthropic mission-driven and culturally competent events, and strategic branding campaigns. Her client list reads like a who's who in philanthropy:
Annie E. Casey Foundation
,
Associated Black Charities
,
National Foundation for Teaching Entrepreneurship
(NFTE),
ABFE
(Association of Black Foundation Executives) and the
Reginald F. Lewis Museum
, among many others. In October, Special Gathering coordinated the
Community Investment Network
's 11th annual conference in the Washington, DC area that convened giving circles of color, grassroots philanthropists, funders and social justice activists.
Read on to learn what inspired Dani to create Special Gathering and her five tips for hosting a successful philanthropic event.
What was your inspiration for starting a philanthropic focused special events company?
I launched Special Gathering while coordinating a conference in 2005 for a major philanthropic community investment firm. After the conference, I reflected on my experience as a planner and quickly realized that philanthropy has tremendous potential to become more effective if the philanthropic community were more organized in presenting an equitable and inclusive experience – no matter your class, economic status, race or cultural identity. When you create a space that allows for collective community sharing and collaboration, you're more likely to receive a greater response.
How is planning for a philanthropic event different from planning other events? What unique skill set do you bring?
Special Gathering exemplifies Social Entrepreneurship in the highest regard. We encourage our clients to adopt our principles of utilizing an event as a strategic step in the process of conveying an organization's mission and vision. Our core approach allows the event to project who the organization is and what the organization is about. We work closely with our clients to develop a strategy and brand that is equitable and inclusive, and helps clients identify strategies that offer the most impact and life-changing results.
You
'
ve been in business for ten years. Is there an event that stands out as the most memorable?
My most memorable event was the Maryland Legal Aid Centennial Celebration that featured guest speaker, Mr. Harry Belafonte. It was an amazing experience to take part in their re-branding and event strategy that supported the organization's goal of incorporating their message as part of the milestone occasion. Maryland Legal Aid is historically known as a statewide non-profit law firm that provides free civil legal services to low-income and vulnerable residents. Being a part of the creative process to help introduce their new message, "Advancing Human Rights and Justice for All" to the world was absolutely amazing.
What are important tips for hosting a successful philanthropic event?
Special Gathering is guided by 5 tips.
Tip #1: Be wise. Develop a solid event design that includes a revenue and brand strategy.
Tip #2: Have real expectations for your event. Under promise and over deliver is the best way to execute.
Tip #3: Lead with focus. Plan your event through the lens of the mission and vision of your organization.
Tip #4: Foster key connections. Events build your brand promise and strengthen your donor relationships.
Tip #5: Be creative. Infuse a mix of fundraising tools: ticket sales, sponsorships and auction, just to name a few.
How can readers get in contact with you?
Readers can visit my website at
www.aspecialgathering.com
and contact me via email at
dani@aspecialgathering.com
and phone, 410-685-7664. Follow Special Gathering on
Facebook
and Twitter at @eventimpossible.
Photo Credit: Gee James/Capitol Media USA